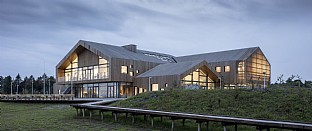 The Heart in Ikast
'The Heart' in Ikast is a new meeting point centred round culture and communication. 'The Heart' combines education, activities, community, exercise and recreational pursuits in new ways.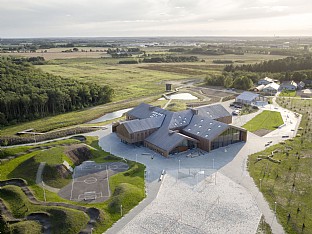 Facts
Client
Ejendomsselskabet ISIB A/S (by Bestseller HEARTLAND and Ikast-Brande Municipality), Realdania and the Danish Foundation for Culture and Sports Facilities
Size
3660 m² + 37,500 m² band of activities
Architect
C.F. Møller Architects
Landscape
C.F. Møller Architects
Artist
Kjerstin Bergendal
Cai-Ulrich von Platen
Jørgen Carlo Larsen
Collaborators, other
Cubo Arkitekter: Vision Vestergade
Awards
Civic Trust Award - Regional Finalist. 2019
ICONIC AWARDS; Innovative Architecture - Winner. 2019
The Chicago Athenaeum - International Architecture Award. 2019
The Plan Award – Finalist in Education. 2019
Selected for Architecture of Necessity. 2019
Building of the Year 2018 - Honorable Mention. 2018
The first step of the Ikast-Brande Municipal Council's visionary plan Vision Vestergade is now taken with the new 'heart' of Ikast that is a major expansion of the International School Ikast-Brande. The expansion will be a meeting point where relationships between various societal and age groups can be formed and maintained. The buildings and outdoor areas are created to promote inclusive and integrative social and cultural meetings and gatherings.
The expansion has sports halls with multi-functional and educational facilities, economic work opportunities including, for example cafés and office facilities. The project will make the educational facilities at the school even better, and at the same time create a new meeting point centred round an area of fast growth in Ikast. The 'heart' will be surrounded by a band of activities with a rich multitude for the community, exercise and recreational pursuits.
Gallery