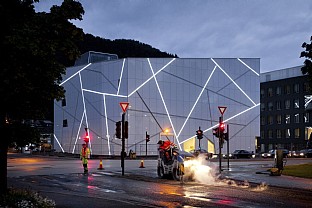 Sogn & Fjordane Art Museum
The Sogn and Fjordane Art Museum lies in the centre of Førde, surrounded by the mountains. The museum's architecture was inspired by the county's many glaciers, with a building designed to resemble a massive blocks of ice that has rolled down from the frozen mountains.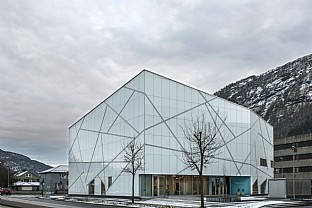 Facts
Client
Sogn og Fjordane Fylkeskommune, Førde kommune
Competition
1st prize in architectural competition. 2006
Client consultant
Futurum AS
Construction
Åsen & Øvrelid
Engineering
Sweco Norge AS, iVest Consult
Architect
C.F. Møller Architects
Landscape
C.F. Møller Architects
Awards
Civic Trust Award. 2015
Førde Municipal Architecture Award. 2014
1st prize in architectural competition. 2006
The compact form of the museum brings a new focus point to the town. The facades consist of irregular opaque glass surfaces, with lines referring to cracks in the ice to create an irregular dynamism. The lines are illuminated at night, to give the building the impression of a sparkling block in the midst of the town's darkness.
Inside, the museum's crystalline form provides an asymmetric floor layout. Visitors progress through the four floors in an open stairwell with a colour-saturated turquoise staircase that rises towards the light and the rooftop terrace's panoramic view. The bright rooftop terrace is designed for outdoor shows and exhibitions.
C.F. Møller Architects also designed the neighbouring Storhagen Atrium and Meieritomten housing blocks, which relate to the art museum as dark, brooding mountains surrounding the ice.
Gallery