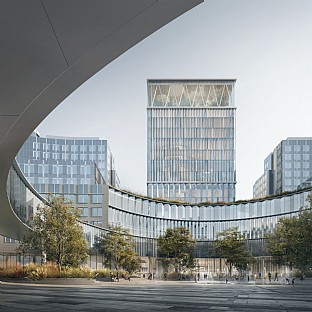 European Parliament - European Parliament, The Paul-Henri Spaak Building
New sustainable headquarters for the European Parliament in Brussels which connects with the city and interacts with the public.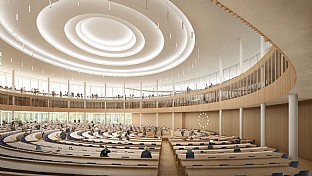 Facts
Client
European Union Parliament
Year
2021, 5th place in competition
Architect
C.F. Møller Architects in collaboration with A2M
Landscape
C.F. Møller Architects
Awards
5th prize in international architectural competition. 2022
The new EU Parliament symbolizes the diversity and unity of the EU member states and stand as a landmark for Brussels – and for the entire EU. Additionally, it reconnects the EU district with the surrounding neighborhoods.
The new EU Parliament consists of three objects: a circular square in the front with a public passage that continues under the building, the Parliament Chamber in Parc Leopold, and a tower as the landmark proudly rising in Brussels' skyline. All three bodies will have a light appearance with crystalline glass facades. The crystal serves as a uniting symbol: with its extraordinary ability to unite every color of the light spectrum – representing the diversity of EU.
A Reconnector for the City
The circle-shaped square in front of the building creates a spatial and open experience to the public and is reconnecting the neighborhood in all directions via an inviting passage with lush greenery. The Parliament Chamber is introduced as a solid and solitary cylinder-shaped building, designed as a pavilion that relates to the other scaled-down pavilions located in Parc Leopold.
Facing the EU Parliament from the front, the tower rises above the circular square and creates symmetry in the architecture which relates to the symmetry of the classical urban plan of Brussels. On the east side, the tower is cascading down with terraces and lush roof gardens, to meet the organic Parc Leopold. The low levels make the tower appear less massive and facilitate more interaction with the people of the city.
The EU Parliament aims at becoming water efficient, energy positive, and CO2 negative. Facades will have solar panels, so the building becomes an active producer of energy. The design makes the building a catalyzer for the social community of the EU neighborhood and the wider Brussels area. Together with circularity solutions, state-of-the-art energy installations and sustainable construction methods, the new EU Parliament becomes a global example of sustainability.
Gallery