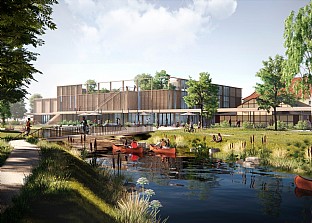 Cultural Centre Pavillonen
Expansion and new more inviting and coherent architectural identity and integration with the surrounding landscape which improves conditions for users and visitors for the cultural centre Pavillonen.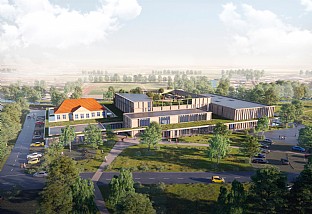 Facts
Collaborators
Lone Jakobsgaard - Volapyk ApS
The Pavillonen is a cultural hub in the Danish city Grenaa. For more than 100 years and with more than 100.000 visitors per year it serves as a cultural and community hub for the city offering music, art, education, and sports. The architectural work involved the expansion and overall architectural coherence of a cultural hub for the citizens of Norddjurs. The objective was to create better conditions for users and visitors while integrating the beautiful surrounding landscape. The challenge was to improve the existing facilities that have sprouted buildings since 1902 while creating a new unifying architectural expression.
The architectural solution consisted of three parts. Firstly, the historical narrative was preserved and exposed to showcase the oldest and most valuable buildings. Secondly, a new unifying roofscape was created to provide architectural tranquility and a platform for unique views and cultural events. Finally, a strengthened relationship between the building and the landscape was established.
Connected to the landscape
The new Pavilion appears open and inviting to its surroundings. The addition of a new café with a stage for musical talent facing the Grenaa river and the landscape has significantly contributed to this. The café attracts passers-by to stay and prolong their cultural experience. The addition of a new art exhibition space has also expanded the possibilities for showing different forms of art.
The project was designed with a strong focus on creating social communities, reusing and optimizing energy in existing buildings, and the choice of low-carbon materials. The Pavillon supports the 17 UN Sustainable Development Goals, and the expectation is to achieve a DGNB Gold certification. The building was climate-proofed in line with the overall objectives set out by Norddjurs Municipality.
Gallery