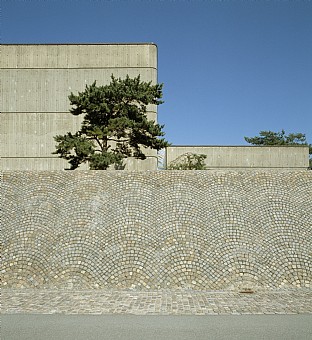 DR - Danish Broadcasting Corporation
The DR complex in Aarhus was designed by C.F. Møller and built as a TV and radio broadcasting centre over several periods from the mid-seventies onwards.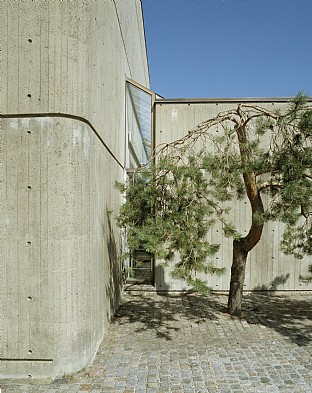 Facts
Client
DR - Danmarks Radio
Architect
C.F. Møller Architects
Artist
Jan Groth, Teddy Sørensen, Karen Hansen, Alfio Bonanno, Viera Collaro, Karen Hansen, Erik Nyholm & Erik Thommesen
A broadcasting centre has a very complex composition of functions. In the DR buildings, the functions have been grouped in bands along the north-south axis, according to their natural contexts: a radio band, an office band, a technical television band and a workshop band.
A network of streets has been superimposed on these bands. Like a section cut through a city, the network contains a main street, side streets, passages, plazas and small squares, both inside and out. In the complex's inner areas, artists have created tapestries, sculptures and installations, while in the courtyards, the gardens have become landscapes and figure cabinets, both imaginative and exciting.
The construction, typically for its time, is in robust reinforced concrete, and is situated on a plateau surrounded by distinctive cobblestone-lined ramparts.
The building has managed to keep up with the massive technological developments in radio and television production by refurbishing almost all areas, partly brought about by technological changes and partly by the internal organization. In 2011 C.F. Møller Architects has updated the decor, so that visitors and staff can continue to experience DR as an open and inquisitive workplace with professional skills and credibility.
Gallery