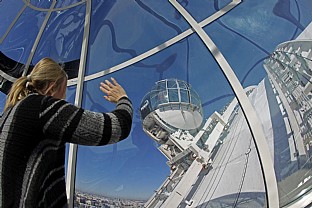 Skyview, Stockholm
The assignment has been to create an attraction lifting visitors up to the top of one of Stockholm's landmarks: the Ericsson Globe Arena, ca. 130 m above sea level.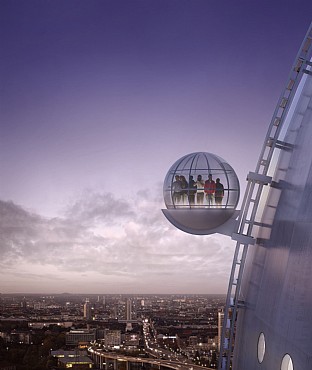 Facts
Architect
C.F. Møller Architects
The two specially designed glass gondolas, called SkyView, take visitors for a 16 minutes ride and give them the opportunity to experience a wide view over all of Stockholm and the start of the archipelago. To give visitors this spectacular view, the gondolas is made out of Perspex and a light steel construction – and air-conditioning and other technicalities have been hidden in the floor.
Located at the entrance, there is a gift shop, a small cinema and a restaurant. Visitors enter through a new, flexible lobby, which is easily separated in two, so that the gondolas can carry both tourists and special visitors at the same time, i.e. participants in a conference or a private party. On special occasions it is also possible to surprise the visitors by slightly tilting the gondola or accelerating a bit while also using different lighting and sound effects.
The gondolas, each weighing 7 tonnes, can carry 21 persons, 5 of them seated. To mount the gondolas and the rails, weighing 70 tonnes, the hull of the arena has been reinforced with 42 tonnes of high precision steelwork.
Gallery