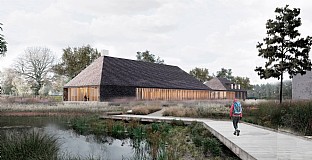 Cultural powerhouse on Samsø, SØHOLM
On the Danish island of Samsø, culture, nature and architecture are combined in the climate-friendly SØHOLM Concert Hall, which is locally anchored, but provides a framework for cultural and natural experiences at an international level.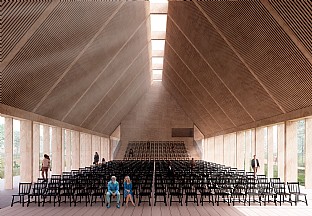 Facts
Address
Nordby, Samsø, Denmark
Size
1,550 m² (main building with concert hall 995 m² + guest house with café 555 m²)
Architect
C.F. Møller Architects
SØHOLM is located between the open countryside and Samsø's northernmost village, where architecture, culture, and nature are combined in a locally anchored powerhouse of international stature. It is an area characterised by nature and old farm buildings, which together with a permaculture garden form the architectural basis for SØHOLM.
The combination of the performing arts with the sensory impact of the permaculture garden makes SØHOLM a strikingly different concert hall. The permaculture garden is carefully designed around a living pathway, a nearby lake, and pockets of respite, with the concert hall located at the heart of the garden. The house consists of two long wings, which appear sculptural and transparent in the landscape. The larger wing contains a concert hall with arrival foyer, a southern foyer for intermissions and smaller concerts, and a fireplace lounge where a panoramic window provides a view and direct access to the garden and lake. The contact between culture and nature is particularly strong in the concert hall, where daylight and the magnificent view of the surroundings create a unique and sensual symbiosis between outside and inside. The smaller wing houses a guest house and a café with large windows facing the courtyard, which can be opened to make the outdoor space an extension of the interior.
The glass façades of the wings culminate in the arrival area – an open courtyard space – framed by the meeting of the two wings and a loggia, a narrow covered outdoor space that runs along both buildings and links them together.
The main structure is built in CLT timber and the facade cladding in cedar, ensuring both a low carbon footprint and a world-class acoustic environment. In combination with the permaculture garden, SØHOLM is thus a highly sustainable and cultural powerhouse of international stature for a local, national, and international audience.
Gallery