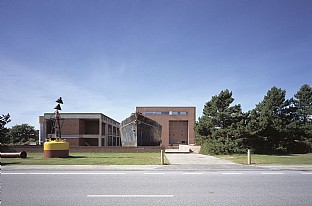 The Fisheries and Maritime Museum
The Fisheries and Maritime Museum in Esbjerg, Denmark, (built 1966-1968) is uniquely located by the Wadden Sea - an intertidal zone in the southeastern part of the North Sea.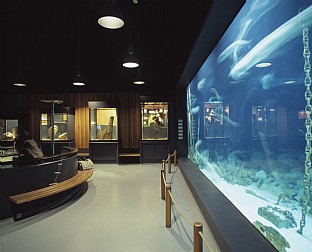 Facts
Client
Esbjerg Municipality
Year
1996-1998, 2002, 2005-2007, 2013, 2014
Competition
1st prize in competition. 1996
Architect
C.F. Møller Architects
Collaborators, other
COWI, Esbjerg
Awards
Awarded the price of honour by the Danish Disability Council Esbjerg. 2003
1st prize in competition. 1996
Alongside 193 natural sites worldwide the Wadden Sea is included on the UNESCO World Heritage List - sites assessed to be so valuable to the world that they should be preserved for posterity.
In the course of the last 20 years, C.F. Møller has been in charge of four different expansions of the Fisheries and Maritime Museum - the two most recent projects putting authentic Wadden Sea wildlife and nature on display for museum visitors.
Most recently, the Wadden Sea Pavilion (2014): A large aviary for wadden sea marine flora and fauna, with glazed pools which make it possible to see the typical wadden sea birds such as eider, shelduck, wigeon and avocets, both above and below water. The other, the museum sealarium, allows visitors to watch the wadden sea seals in their natural element through big underwater windows.
Previous projects include the refurbishing of the primary exhibition hall (2002) which has been transormed into a sequence of ramps where visitors, while descending, pass exhibitions and aquariums representing the various sea depths. In 1998 a new administration wing and library was added to the museum, and just now a new auditorium wing is being planned.
All extensions are based on the masterplan layout which was the result of an architectural competition won by C.F. Møller Architects in 1996.
Gallery