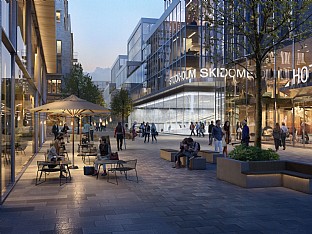 Barkarby City
Located close to nature, Barkarby City will become one of Stockholm's regional centres in the future. Public transport by train, subway and bus makes housing and the many offices easily accessible, and the area will become an attractive location for business owners.
Facts
Address
Järfälla, Stockholm
Architect
C.F. Møller Architects in collaboration with OkiDoki! Arkitekter
Landscape
C.F. Møller Architects
Barkarby City is an extensive urban development project in Barkarby, north of Stockholm. There will be a mix of homes, workplaces, restaurants, shops and a 30-storey hotel within the six new neighbourhoods that make up Barkarby City and a new centre. Sustainability and health will be the focus of the new regional hub.
Sports facility with cross-country ski trails
A 1.2 km long indoor cross-country ski track will be open to the public all year round, supplemented by a small ice-skating rink, curling rink, ice cream bar and café. The sports facility will be a destination for families, companies and elite athletes. Adjacent to the ski track is a hotel with a restaurant and a sky bar on the top floor.
The buildings are adapted so that they form protection against the highway and the railway line to the north, and so that lower buildings meet the large park in the south. The buildings become progressively higher in the centre of the area and near the station. Veddesta III is built as a traditional neighbourhood town, but high-rise buildings of between 12 and 30 floors are also accommodated in the area.
The facades are designed with different themes such as glass, brick and timber, giving different areas a distinctive character and creating an aesthetically vibrant neighbourhood. The goal is to build sustainably and therefore hybrid structures are used to reduce carbon dioxide emissions.
A new centre is created, boasting of everything a city has to offer. The site will be a new hub in the Mälaren Valley and the Stockholm area.