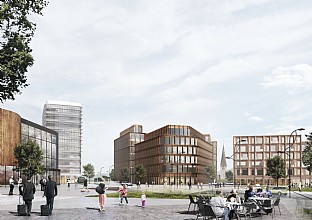 Gränby - Östra Sala Backe
A new meeting place and destination in Uppsala – A new green city centre is created in Uppsala which aims to integrate with a culturally and historically important part of the city, whilst maintaining an inner-city feeling.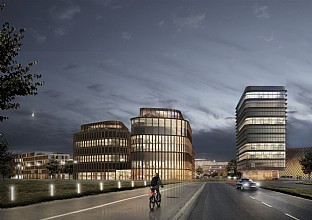 Facts
Competition
1. Prize in competition. 2019
Architect
C.F. Møller Architects
Landscape
C.F. Møller Architects
Awards
1. Prize in competition. 2019
Gränby Entré signifies a new entrance along one of the culturally and historically important routes leading into Uppsala. The new city centre contains a mix of offices, housing, culture and education, which creates a new commercial cluster in the city.
Through Gränby Entré, Gränbystaden is united with Östra Sala backe, Årsta and Vaksala. The city centre has been designed with the ambition of enhancing the experience of the area's existing cultural and natural values, by creating new paths and a line of sight that visually connects the neighbourhood to the culturally and historically renowned district of Vaksala. The fact that Vaksala church is visible on the horizon creates a connection to the ancient monuments from the Viking era at Vaksala Gärde. The surrounding green areas will also become more accessible, with a green path leading through Gränby Entré. Nature and culture are at the heart of the identity of the new city centre.
A sustainable centre is emerging
A sustainable district will emerge in Gränby. Based on BREEAM, a world-leading method of sustainability assessment, C.F. Møller Architects prioritised material with a long-life cycle and of which can be easily recycled. Energy-efficient solutions and public transport will be given preference, as a new urban transport node will take shape.
Workplaces, education, culture and housing will encourage synergies with workers, students, cultural consumers and residents. The mixture of functions in the Gränby entrance brings life to the suburb during all hours of the day. With a focus on active ground floors, the heights and functions of the buildings are strategically placed, adapted to the character of the street and natural light conditions. The streets in Gränby Entré will be bright and safe. On the ground floor there will be everything from co-working to outdoor cafes, kindergartens and bicycle workshops.
On the way into Uppsala, Gränby Entré will become part of a sequence that begins with the Vaksala landscape - with Vaksala church as a landmark - and reaches Gränby Entré whose ten-storey high office building forms another landmark. Together they become a symbol for both the new and the historic Uppsala.