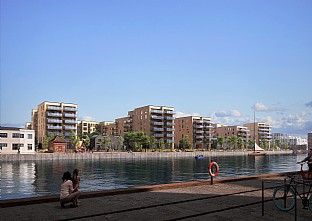 Pakhuskajen, Odense
A disused industrial harbour in Odense, Denmark, has been transformed into a vibrant district with open squares, green spaces, and housing that connects the harbour to the city.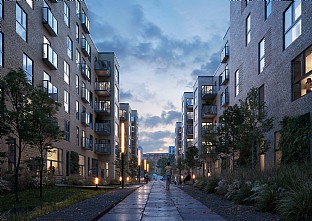 Facts
Engineering
Henry Jensen A/S
Architect
C.F. Møller Architects
Landscape
C.F. Møller Architects
Collaborators, other
Ballinger acoustics Brand 360 DMR A/S A1
The new district at Odense harbour, Pakhuskajen, has been opened and linked to the southern part of the city. The harbour promenade along the quay and green urban spaces makes the area an attractive place to stay, while two open squares, the Green Square and Square of King's Ship Berth, create a range of activities for all ages in the new district.
The Green Square serves as an urban park with recreational and physical activity areas close to a newly established access to the harbour basin for e.g., kayaks and paddleboards. Meanwhile, the Square of King's Ship Berth, at the opposite end of the harbour, is a large urban space for events, pop-up activities, and art installations.
Urban space and housing
The housing at Pakhuskajen is varied to ensure a diverse mix of residents. Housing types include small and large condominium and apartments for rental, townhouses inspired by the old fishermen's houses, and high-ceilinged studio apartments. They all have access to balconies, green courtyards with orangeries, and car-free streets with wide green verges.
Old railway tracks, mooring pulleys, harbour buildings, and warehouses have been preserved. The new buildings are in keeping with this existing and historic structure finished in red and light-yellow brick, which are also the main material used in the new buildings.
The varied housing and public outdoor spaces create a vibrant and green environment that ensures activity all year round and contribute positively to the development of urban life at Odense harbour.
Gallery