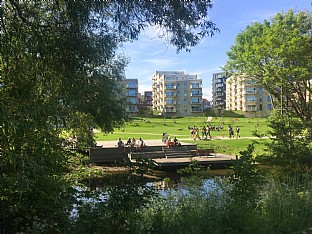 CeresByen, masterplan and area plan
Transformation of the former Ceres Brewery site in central Aarhus into a mixed-use urban area with commerce, housing, education, cultural spaces and urban park.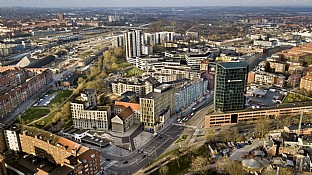 Facts
Size
140,000 m² floor area (8 ha. site), 1126 homes (88,000 m²), 2000 parking spaces
Year
2008-2010 Masterplan, 2010-2018 Buildings
Client consultant
A. Enggaard
Architect
C.F. Møller Architects (masterplan), C.F. Møller Architects, Arkitema, SHL, Sahl (building plots)
Landscape
C.F. Møller Architects, Arkitema
The site, with the important location adjacent to the river, have for decades been a 'missing link' in the urban fabric. It has the potential for new connections and shortcuts between attractive neighbouring areas, including the new cultural hub of the former rail yards, the open air museum 'The Old Town', the central public spaces along the river, and the green belt connecting to lake Brabrand. This connectivity, and the historical industrial buildings on the grounds, become the outset of a varied sequence of urban spaces, squares and green parks defining the new town part.
C.F. Møller is responsible for the design of two housing projects on the site. Both projects are aimed at students and young families and consist primarily of two and three bedroom apartments that are easy to share. The court yard of each housing complex offers residents a green, recreational space.
Gallery