NTNU Campus Trondheim
Transformation and development of the campus for NTNU (Norwegian Technical and Science University), which strengthens research and communication by breaking down barriers between students, researchers and disciplines, as well as the relationship with business and the city.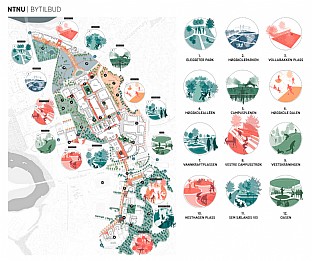 Facts
Size
137,000 m² (92,000 m² newbuild, 45,000 m² renovation)
Architect
C.F. Møller Architects in collaboration with Rambøll, Fabel Arkitekter and Rolvung & Brøndsted
Landscape
C.F. Møller Architects in collaboration with Rambøll
Collaborators, other
mtre, Oslo|Works
NTNU's new urban campus in the Gløshaugen area in Trondheim brings together the humanities and social sciences with the technical and scientific environments as well as medicine, health and teacher training. Overall, a robust and flexible infrastructure will be created that strengthens interdisciplinarity and creates opportunities for good synergies. It lowers the threshold for being able to study, research, innovate and communicate across traditional disciplines and create a basis for better quality in education, research and communication. The development of NTNU's campus is thus a tool for supporting academic ambitions and strategic direction.
Optimally balancing new and existing buildings
A flexible infrastructure strengthens interdisciplinarity and provides good conditions for creating synergies well into the future. This is achieved by an optimal balance between existing and preserved buildings as well as planned new buildings. The new campus strengthens integration between the city and the existing campus through new innovative buildings and urban spaces that open up the campus in dialogue with its surroundings.
The project includes up to 92,000 m2 of new construction and 45,000 m2 of conversions and runs for a total of 10 years. C.F. Møller Architects, in a consortium with Rambøll Norway, ensures that Statsbygg and NTNU translate a campus vision into concrete architecture. This takes place through a comprehensive user involvement and design process as well as a focus on a clear distribution of roles, transparency and progress in the work process.
The new campus creates the basis for more collaboration and additional and better opportunities to combine knowledge and subjects as well as better communication between students and researchers and between academia, business and the local community.
Gallery