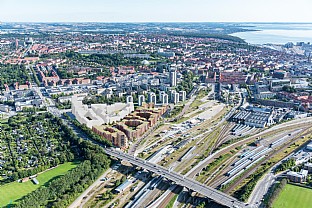 Masterplan Brokvarteret in Aarhus
Recreational green urban spaces and a variety of housing types make Brokvarteret a varied neighbourhood with lively streets, where good connections for cyclists and pedestrians make the city and nature easily accessible.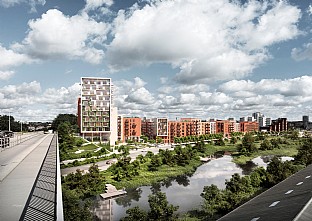 Facts
Architect
C.F. Møller Architects
Landscape
C.F. Møller Architects
Brokvarteret is a new interpretation of the classic brick building neighboorhood where green urban spaces appear between the blocks creating spaces for community and activities to unfold. With a varied composition of housing types and a location situated between Aarhus city centre and the lush nature towards Brabrand Lake, Brokvarteret appears as a diverse residential district, where the link to the city and nature is emphasized by the neighborhood's boulevard connected to the nature trail Brabrandsti. From the boulevard there are alleys and streets with rainwater beds, which add recreational qualities to the urban spaces and slow down traffic to accommodate pedestrians and cyclists.
Towards the street, the buildings have a natural slope, which ensures that the blocks face the urban space in a friendly way. The inner courtyards of the blocks in Brokvarteret are raised one level above street level, giving residents both more hours of daylight in the courtyard and space for bicycle parking beneath. The blocks consist of apartments and townhouses, and the buildings vary in expression, volumes, and height with facades in different tones of bricks in natural colors, which all together contribute to the experience of a classic brick building neighborhood with a diverse and modern urban environment.
Gallery