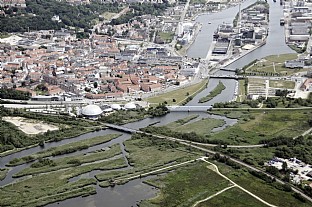 City to the Water - pre-planning analysis
"City to the Water" is a far-reaching urban development project. It sets out to open up the city centre of Randers, Denmark, to the water and connect the medieval city with its surrounding nature, including the Gudenå River and the Randers Fjord.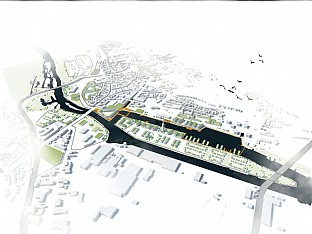 Facts
Client consultant
Kuben Management
Engineering
WSP (formerly Orbicon)
Architect
C.F. Møller Architects
Landscape
C.F. Møller Architects
Collaborators, other
Realdania (Co-financing) Habitats A/S Smith Innovation APS Sadolin & Albæk
Awards
Climate Award – Building Awards (DK). 2019
At the heart of the project is to find and disseminate the different potentials and synergy effects in the tension field between urban life, nature, climate adjustment, traffic and overall finances. The overarching aim is to make Randers an even more enjoyable city for residents and visitors.
Few Danish cities have an as striking countryside lying right by its feet. In the future, the aim is to supplement the city centre with a variety of nature experiences and activities that bind the town closely to the water, opening up new residential, recreational and activity opportunities. First and foremost, the countryside and the water must no longer be a barrier, but turned into a unique resource.
As an urban development project, the new aspect of "City to the Water" is the thorough analysis of various development scenarios. They are created with a view to both urban planning and overall finances. In this way, the consequences and opportunities of various visions are actually comparable at an early stage, before the dreams take hold.
Gallery