Devoldholmen, Kristiansund
C.F. Møller Architects has developed an overall concept for urban and campus development at Devoldholmen in Kristiansund, a complex containing a campus, housing and businesses. The main objective was to ensure high quality outdoor spaces for the area and to provide clear architectural character in the form of uncluttered designs able to accommodate variations in use and changes over time.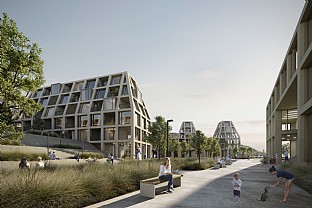 Facts
Client
Kristiansund Municipality, NHP Eiendom, Bane NOR
Address
Kristiansund, Norway
Architect
C.F. Møller Architects
Kristiansund's architecture is strongly linked to the coastal culture and the extensive reconstruction work after World War II, especially according to the 'Brændte steders regulering' (BSR), intended to restore damage, signed by Sverre Pedersen. The objective was to create an architectural theme that embraced and enhanced the good intentions of the regulation.
The project combines a campus, housing and businesses with sequences of generous outdoor space designed to link the coastal front with the town. The heart of the area faces the water, where pedestrians and cyclists meet. The campus is the project's largest and clearest program, located almost on the quayside to define the area from the coastal side.
The proposal interconnects foot- and cycling paths between Vågen, Devoldholmen and the centre, making the plan area a more attractive transition for travellers by bus and boat. The new Devoldholmen will become a public space offering plenty of opportunities for recreation and activity for travellers.
The project draws its inspiration from Kristiansund's rational buildings with their rich variety in shape, colour and interiors despite similarities in design. The new buildings are primarily built in concrete, but can also feature a mixture of concrete and wood, for example with concrete on the ground floor and wood used for the floors above. The results are a robust architectural concept combined with a futuristic energy concept and a blue-green network that withstands the harsh climate and the ravages of time.
Gallery