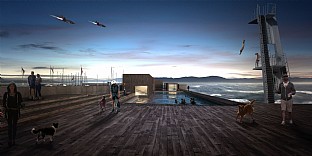 Brekstad
Brekstad, which nestles on a peninsular on the outer reaches of Trondheimsfjord in Norway, has been nominated as a pilot project under "Communities of the Future", a government initiative which aims to create model communities to promote sustainable growth in small communities and villages in Norway.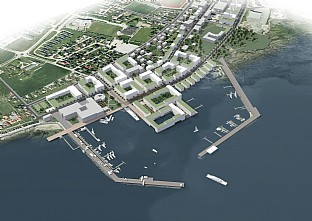 Facts
Client
Ørland Municipality
Architect
C.F. Møller Architects in cooperation with Haugen/Zohar Arkitekter
Landscape
Dronninga landskap
Collaborators, other
The Institute of Transport Economics (TØI)Vista Analyse (social science consultancy) Erichsen & Horgen (consultants)
The municipality currently has about 5,000 inhabitants but is expected to grow to around 7,000. Most growth is expected in Brekstad itself because the Norwegian air force's new main fighter jet base will be built here. C.F. Møller has been working on proposals for the development of Brekstad.
Since the 1990s the municipal authority has been working towards a vision, where functions, such as the town hall and cultural institutions, are moved to the waterfront area. C.F. Møller's proposals for a new master plan take this vision further in the same direction. Our proposals seek to amplify Brekstad's unique identity as a coastal town: The idea is to centralise urban life - the town hall, and the cultural, business and retail sectors - around the ferry landing and town square, which will mean that citizens can walk or cycle to most features in the local area, using public transport only when they need to travel further afield, e.g. taking the ferry to Trondheim.
The landscape and coastline of Brekstad is teeming with birds and protected under the terms of the international Ramsar Convention. These unique features should be emphasised as characteristic of the town and we seek to preserve them right in the heart of the town by means of fertile green belts between housing and e.g. a waterfront promenade and bicycle paths along the coast. The new structure of the town will be designed so that buildings get plenty of daylight while providing protection from icy winds blowing in from the sea, to ensure that Brekstad provides as warm and attractive an urban environment as possible.
Gallery