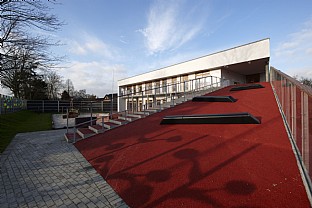 Children's House Dragen
This integrated kindergarten is one of the first in Denmark to be built and certified as a passive house, which means that its energy consumption, and thereby its CO2 footprint, has been drastically reduced. The project largely uses materials with the Nordic Swan Ecolabel, certifying that they impose a minimal environmental load.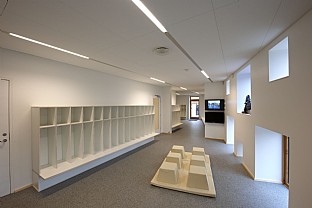 Facts
Client
Odense Municipality
Competition
Won after prequalification. 2008
Client consultant
Arkitekt m.a.a. Torry Fax
Engineering
Tækker Rådgivende ingeniører
Architect
C.F. Møller Architects
Landscape
C.F. Møller Architects
Awards
Odense Municipality Architecture Award. 2010
Won after prequalification. 2008
The low energy consumption is achieved via increased insulation, dense constructions, well-regulated ventilation and highly efficient heat recycling. The building is so well insulated that the children's activities can cause the temperature in the rooms to rise.
The actual construction process was carried out in as sustainable a manner as possible. Environmentally harmful materials were rejected, while the energy consumption involved in the building process was minimised by utilising prefabricated elements with brief assembly times.
The fundamental architectural concept is a simple and clear geometric form on two levels, with the children's areas located in the best-lit southern end. The two levels are linked by staircases and ramps which accord with the geometry of the architecture, but are also designed to stimulate and challenge the children's senses and motor skills.
Gallery