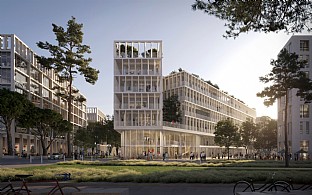 Montpellier Business School
New campus to stand as a landmark in Montpellier, that dynamically creates interaction across professions and invites the public in.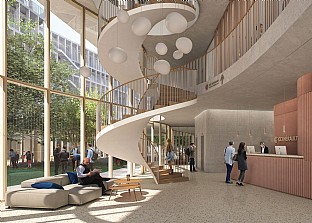 Facts
Client
Montpellier Business School
Address
Montpellier, France
Size
27,940 m² + 12990 m² (parking)
Year
2021, Competition proposal
Engineering
AIA Ingeniérie EGE Ingeniérie AIA Environnement (environmental engineer) Tisseyre+Associés (acoustical engineer)
Architect
C.F. Møller Architects in collaboration with AIA Architectes and Line Nelund Dross (consultant) and Megias Vernhes Architectes (local architect)
Landscape
AIA Territoires in collaboration with C.F. Møller Architects
Collaborators, other
BEGC (Kitchen Designer) Onepoint. (Digital experience designer) lbc (Space planner + furniture designer)
Awards
2nd prize in international architectural competition. 2021
With its triangular shape, the new campus will stand as a landmark of its district in Montpellier and fit into the surroundings with a landscape design relying on the site's vegetation, and with several openings to the city.
The campus consists of four entities within education, commerce, restaurant, and tourism, divided into two buildings. The buildings are connected through a continuous curved and transparent base with an interconnecting mezzanine level that spans over the whole site and links open atriums, public functionalities, and outdoor terraces.
Spaces for Socializing and Reflection
The upper floors offer outdoor spaces with balconies in continuity with offices and classrooms. Open staircases and squares encourage interaction between teachers, researchers, and students by creating vertical and horizontal movements across all levels and programs of the campus. At the same time, the interior of the upper floors is designed with isolated environments that also provide quiet spaces for reflection and concentration.
The lower floors are open and dynamic with a mezzanine level winding along the curved glass facades inside both buildings where it continues outside as a walkway and place for relaxation above the lush landscape. It connects with the ground floor through multiple spiral staircases, while on the upper levels a wide social staircase goes to a roof garden, where the campus users can work under the pergolas.
Terraces and squares on the ground level connect all functions of the campus and have a welcoming appearance with public green passages, canteen, and a showcase restaurant for educational purpose, open for everyone to dine.
Gallery