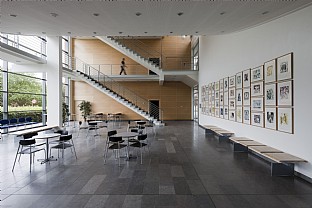 The Faculty of Theology
The Faculty of Theology at Aarhus University enjoys a central location on the corner of Ringgaden in the city. On one corner opposite lie the yellow buildings of the University, and on the other the characteristic red buildings of Nobelparken.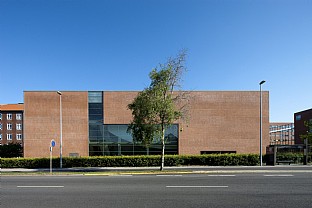 Facts
Client
Forskningsministeriets Byggedirektorat
Size
12,000 m² (newbuild 2000 m²)
Competition
1st prize in competition - after prequalification. 1997
Engineering
Søren Jensen Rådgivende Ingeniørfirma
Architect
C.F. Møller Architects
Landscape
C.F. Møller Architects
Artist
Jens Birkemose, Bjørn Nørgaard and Søren Elgaard
Awards
1st prize in competition - after prequalification. 1997
The Faculty of Theology is housed in the buildings of the old Orthopaedic Hospital. In connection with the takeover the existing buildings were transformed to make them suitable for teaching, and a new auditorium wing was added with an auditorium and foyer. The auditorium wing faces Ringgaden, and with its large glass panels, it opens up the weighty building so that passers-by can look inside and see what is going on in the foyer. The red brick facade and the design of the large glass panels are in harmony with the appearance of Nobelparken, the existing hospital buildings and the other nearby buildings on Ringgaden.
The new main entrance is located between the existing buildings and the new wing. Entering the building, the first thing the visitor sees is the large, colourful ceramic mural by the artist Jens Birkemose, which forms an elegant bridge between the old and the new.
Gallery