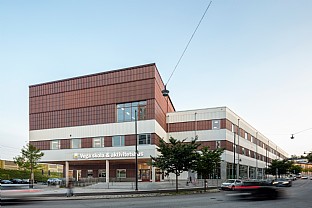 Vega School & Activity Centre
Vega School & Activity Centre is a unique focal point that offers space for everyone, young and old alike. Here, education, culture, and leisure come together under one roof.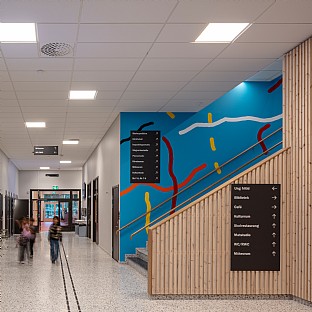 Facts
Size
12,500 m², 900 students
Competition
1st prize in competition. 2019
Architect
C.F. Møller Architects
Landscape
C.F. Møller Architects
Artist
Knee-Deep by Molly Haslund and architect Aspasia Balta, placed in the courtyard. Lines in Motion by Jakob Ojanen, located in the central staircase. The Vega Sphere by Space Popular (Lara Lesmes & Fredrik Hellberg), located in the library.
Awards
1st prize in competition. 2019
Located in the heart of the Vega district, just south of Stockholm, Vega School & Activity Centre strengthens the area's identity and is highly visible to visitors. Its proximity to the station makes it a natural meeting place and a distinctive landmark. It encompasses a primary school, library, cultural school, sports hall, youth meeting place, café, and space for gatherings and events. With a capacity for around 900 students and 150 staff members, the new school and activity center play a significant role in the area. Associations and nonprofit activities are invited to use the premises alongside several municipal administrations. This creates new interactions between different age groups and interests.
The building's openness towards the street integrates the interior of the activity centre with the public space of the district. People will move through here during large parts of the day. The large central staircase serves as the backbone of the activity center as it guides upwards through the building. Spaces dedicated to students' group work during the day transform into venues for lectures and meetings in the evening. At the heart of the building, the cultural room takes a central place, housing the school's arena for musical and dance performances, as well as numerous lectures and presentations.
Green schoolyard and unified signage design
The schoolyard connects to the area's green spaces, and its rich and varied tree plantations enhance the area's green structure, ecological values, and provide good opportunities for sustainable stormwater management. The color palette of the yard aligns with the building's red tones, creating a warm and inviting overall impression.
The project also included the development of a comprehensive signage program for both the school and the activity center. This encompassed both outdoor and indoor signage, with the goal of establishing a consistent and user-friendly visual identity that not only facilitates navigation but also reinforces the school's character.
Gallery