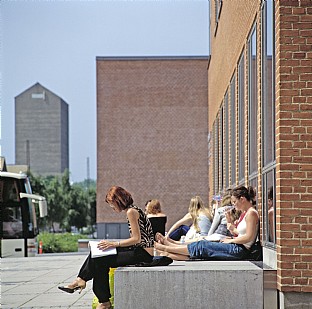 Nobelparken, Aarhus
At the corner of the ring road and Randersvej in Aarhus, Nobelparken rises. Its red tiles connect with both the Faculty of Theology on the opposite corner, the neighboring buildings in the area, as well as with the yellow tiles belonging to Aarhus University's buildings across the street.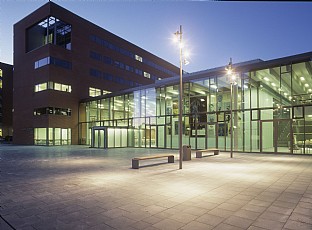 Facts
Client
FEAS, Forskningsfondens Ejendomsselsskab
Architect
C.F. Møller Architects
Landscape
C.F. Møller Architects
Artist
Viera Collaro, Niels Winkel, Torben Ebbesen, Evan Rasmussen, Lone Høyer Hansen and Vibeke Lawaetz
Collaborators, other
Byggeplandata
Awards
The Danish Association of Construction Clients Award. 2004
Aarhus Municipality Architecture Award. 2000
Nobelparken is built as a dense local district with public squares and open spaces between the buildings that houses both business facilities, residential apartments and teaching – primarily for the University of Aarhus. Facing the street, two lines of five floor cubic high-rises form a characteristic façade profile, while at the same time framing the inner courtyard, where the residential apartments for guest scholars and scientists are placed.
Large transparent screens of glass shield the space between the cubic buildings. They are decorated with long beams of light in different colors that bridge the space between the buildings when they shine in the evening. In general, buildings and squares have been richly decorated with artworks; For instance is the university auditorium hung with a large glass painting representing the 13 Danish Nobel Prize winners.
Gallery