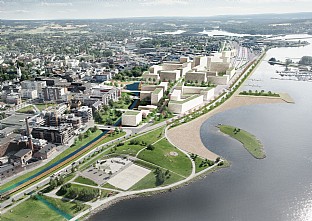 Hamar - Getting The Town Closer to Mjøsa
C.F. Møller has completed a study of the possibilities for urban development in the Norwegian city of Hamar, if the current railway line is routed under the bay of Hamar. If the rail section is able to cross under the city, it will be possible to build Hamar all the way down to Norway's largest lake, Mjøsa, and thereby provide the city with a closer contact to the water.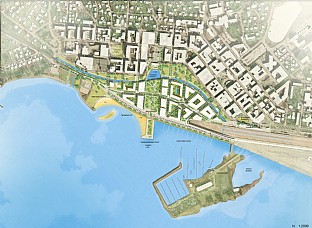 Facts
Size
120000 m², ca. 1000 new dwellings
Architect
C.F. Møller Architects
Landscape
Dronninga landskap AS
Collaborators, other
Rejlers Norge AS
In the study, the emphasis is on strengthening the city's identity as a Mjøsa-city, to strengthen and expand the city's blue and green features and to maintain the characteristic of the 1800-century urban structure. Moreover, it is emphasised that residents in Hamar should be able to walk to and from their daily chores and have a short distance to busses and trains.
The current church-axis from the town's church, will across the Great Square and down towards Mjøsa be carried down to the water by expanding the central park, 'Strandparken', while a water surface accentuates the axis. The extended axis will give the city a great opening towards the water. The water surface inside Strandparken is part of the canal that crosses the church-axis and lies along the current part of Strandparken. The former promenade along lake Mjøsa will, in addition, be restored. There will be established an upper level that is safe from flooding and a lower level that can withstand flooding and have a close contact with the water.