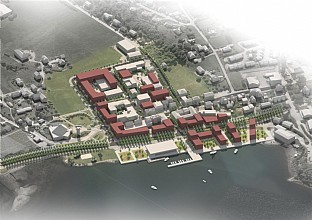 Sykkylven city center
The Norwegian town of Sykkylven with approx. 7500 inhabitants is scenically situated at the Sykkylvsfjord, surrounded by the Sunnmør Alps. The development plan proposes to reinforce the city's urban block structure by including vacant land, and extending the centre right down to the fjord with a new waterfront. In this way, the valuable surrounding green areas all around the city centre are kept free from construction. The idea is to underline the landscape qualities that characterize Sykkylven, by creating a dense and precisely defined urban structure as a contrast to the surrounding open landscape and the high mountains towards the Sykkylvsfjord.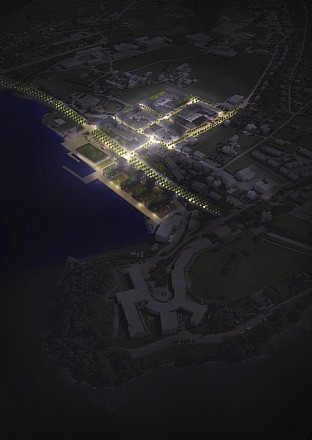 Facts
Client
Sykkylven kommune, Møre og Romsdal fylke
Address
Sykkylven, Norge, Norway
Architect
C.F. Møller Architects
Landscape
Dronninga landskap AS
Collaborators, other
Vista Analyse AS & Zenisk
Awards
1st. prize in competition. 2012
The plan emphasises public space and an active city centre, by enhancing the existing square and its two main axes with plantings, new shops and cafes and new central town hall. An existing disused freight terminal along the fjord is proposed transformed into a youth activity centre, as a venue contributing new opportunities and activating the waterfront.
In addition the urban renewal plan contains several features that can help to create activity and life, such as a kindergarten, playgrounds, hotel, gym and coffee shop. Wide sidewalks and new footpath shortcuts through green courtyards make walking a more attractive alternative. A long fjord promenade and a guest marina are part of the new waterfront.
Gallery