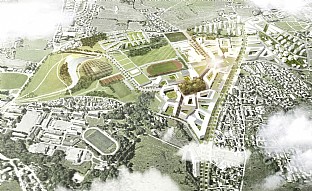 The future Madla-Revheim
The municipality of Stavanger in Norway aims to create green and environmentally conscious residential areas in the region, and the area of Madla-Revheim is selected as the main development area.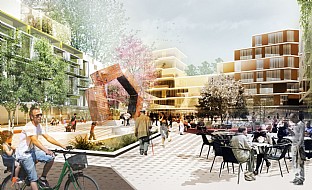 Facts
Client
Stavanger Municipality
Architect
C.F. Møller Architects
Landscape
Dronninga Landskap A/S
Collaborators, other
Vista Analyse, Erichsen and Horgen A/S, TØI, UMB
The proposed urban vision for Madla-Revheim presents the concept of the ''5-minute city '', a city where one can reach public transport, supermarkets, schools, kindergartens, sports fields etc. on foot within five minutes from home. The homes are therefore densely planned, giving short distances and freeing up space for green areas. At the heart of the area, a new light rail provides an efficient transport link to the centre of Stavanger, reducing the need for car use.
The layout is essentially based on the thousand year old agricultural landscape, by allowing the urban fabric to align with the former or present roads, property boundaries, canals and ridges. At the same time, the existing vegetation on the green areas is preserved. The road network is transformed into planted streets and avenues with bike lanes and sidewalks, and sidewalks and paths connect the entire city and make it attractive to pedestrians. This includes easy access to the many trails that exist in the natural surroundings of the area. Towards the Hafrsfjord in the south, a new "Hafrsfjordpark" is proposed as the entire city of Stavanger''s new public park.
Gallery