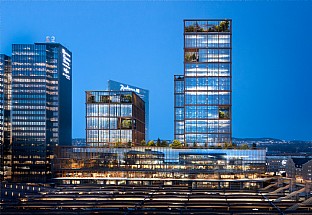 Oslo Horisont
Oslo Horisont, a large-scale transformation project totaling 82,000 m² with a focus on adaptive re-use, is being created on a central site next to the station area. The project comprises two high-rise buildings with a raised public green landscape.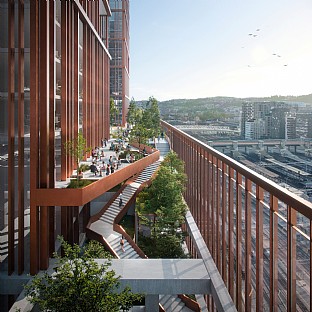 Facts
Engineering
Bollinger + Grohmann Ingeniører and Transsolar
Architect
C.F. Møller Architects in collaboration with Kristin Jarmund Arkitekter (now Nordic) and Urban Planners Rodeo Arkitekter.
A former post office terminal will be transformed into a new gateway to the train platforms at Oslo Central Station, forming a multi-tenant commercial office hub, a hotel and conference centre, a sales hall, café and bicycle parking. The existing concrete structure serves as a base for the high-rise buildings and ensures that a part of Oslo's history is preserved. The reuse strategy retains and recycles 30,000 m² of concrete, making Oslo Horisont one of Norway's largest transformation projects.
The old post office terminal will become airy and transparent, ensuring that the urban pulse and movement of the city is invited in and made visible. In the middle of the transparent base, a direct connection to escalators and elevators is established, leading the area and the building's commuters to the platforms at Oslo Central Station. A new urban floor is created with entrances and connections that also link the building to Akerselva, Nylandsbrua and Schweigaards Gate. The urban floor activates and connects the surrounding environment by incorporating outdoor spaces where there is human life.
Green rooftop landscapes with a focus on recreation and life
Bicycle parking is integrated and a central part of the concept with its own driveway and parking basement with over 3,000 bicycle parking spaces. This comes together around a central atrium located between the two high-rise buildings. A green public landscape is established on the roof of the old post office terminal, giving the site back to the densely populated urban area. All this is possible even if 70% of the existing structure is recycled and reused in the new project, making Oslo Horisont an international role model in circularity.
The tallest building is 135 metres high and accommodates flexible office space for future tenants with up to 3,500 new workplaces. The lower building is designed for hotel operations. Everyone will have access to terraces with planting, which visually appear as hanging gardens at the full height of the high-rise buildings. The transformation will provide space for recreation and life in and between the buildings. Right in the heart of Oslo, between the tree branches on the roofscape, visitors can experience panoramic views of the city, the countryside and the Oslo Fjord.
Gallery