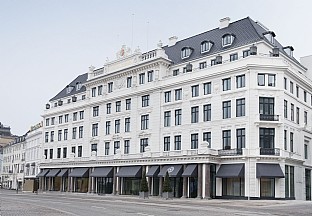 Hotel d'Angleterre, renovation
Widely known as "The White Lady on Kongens Nytorv", the more than 250-year-old Hotel d'Angleterre is an icon and a historic landmark in Copenhagen. Celebrated for its elegance, luxury and style, for centuries the hotel has provided accommodation fit for kings and princes and, more recently, rock bands and movie stars too.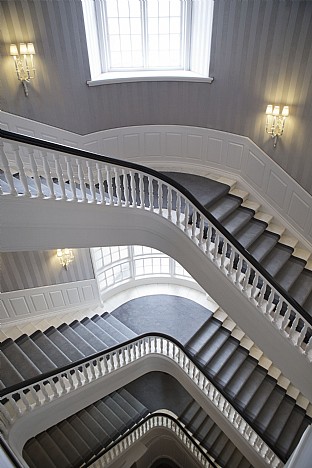 Facts
Address
Copenhagen, Denmark
Construction
E. Pihl & Søn
Engineering
Rambøll & AI Gruppen
Architect
C.F. Møller Architects
Collaborators, other
Interior Design: GA Design, SPACE Copenhagen and Hotel d'Angleterre by Alan Evensen, Creative Director
When C.F. Møller Architects first looked at the existing conditions, we realised that continuously changing requirements had affected the overall appearance of the hotel, inside and outside: Walls had been pulled down, concrete decks had been erected and ceilings lowered to provide space for ventilation. The result was an impaired spatial impression.
The hotel has undergone a complete refurbishment, which is inspired by its rich heritage. It has now reopened as a revitalised grand palace. The goal has been not only to design a modern and functional flow, but also to provide a new spatiality to the public areas and rooms.
The new style of the hotel is contemporary classic. There are elegant materials in light and pleasant tones, exclusive surfaces and subdued decorative effects, which clearly emphasise the connection between the new and the old, and beautifully accentuate a plethora of outstanding rooms within its walls. Balancing elegance with a feeling of being at home, the renovation substantiates the white lady's proud traditions.
Gallery