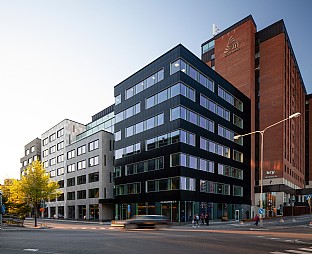 Nya Kronan in Sundbyberg
Nya Kronan in the centre of Sundbyberg has been developed into a modern and environmentally friendly office district with flexible and sustainable workplaces. 40,000 sqm of new space for offices and parking has been created.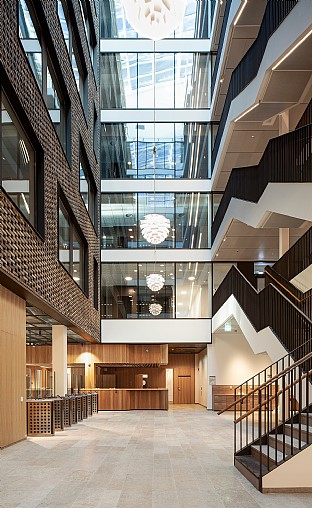 Facts
Address
Solna, Stockholm, Sweden
Construction
Skanska Sverige AB
Architect
C.F. Møller Architects (Original architect: Reflex arkitekter)
Awards
Winner "Building of the Year" in Sweden. 2022
Nya Kronan has been built by Skanska on behalf of Vasakronan, where C.F. Møller Architects was commissioned to carry out the construction documents for Skanska and also for tenant adaptations. Reflex Architects is the original architect for the new buildings.
The block called "Kronan" in central Sundbyberg, one of Stockholm's oldest suburbs, originally consisted of three buildings constructed in 1981. A lower office building and parking garage have been demolished to make way for two new buildings with modern and flexible office space. C.F. Møller Architects has designed a new building with additional offices and a gym to connect the existing high-rise building with the new premises. The location is one of the best communication points in Stockholm, with proximity to the metro, long-distance and commuter trains, buses and the cross-city railway.
Multi-tenant building
The property has been designed as a "multi-tenant" building that can accommodate a wide range of tenants, but at the same time can be adapted to one or more large tenants. The first tenant is the Swedish Tax Agency, which rents the entire new building and parts of the existing adjacent high-rise building.
The buildings have been divided into smaller volumes with varied designs to fit in with the small-scale Sundbyberg. The façade materials are timeless and durable in a colour scheme that contrasts with the reddish-brown brick of the existing high-rise. Generous terraces at different levels and in different directions provide a varied roofscape with spaces for outdoor living. The buildings are connected at the entrance level where three light courts for common use are located. The character of the courtyards is enhanced by focus walls made of recycled bricks. The active ground floors consist of a dining room/workplace for the tax office and a lecture hall that can be used independently, as well as a café on the corner that contributes to the desired urban character of the area.
Green offices with a clear sustainable focus
The building has integrated solar cells in part of the façade and solar cells on the roofs, which are also planted with sedum. There are large bicycle parking spaces with an associated service area and changing and drying rooms. Nya Kronan has been designed to achieve LEED Platinum Core & Shell environmental certification, which is the highest level.
Gallery