The University of Aarhus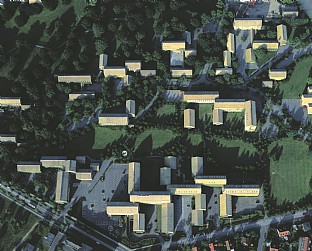 Client
Danish Ministry of Education
Address
Aarhus, Denmark
Size
200000 m²
Year
1931-
Competition
1st prize in open competition. 1931
Framework agreement 1996-
The University of Aarhus, which dates from 1931, is a unique and coherent university campus with consistent architecture, homogenous use of yellow brickwork and adaptation to the landscape.
The University of Aarhus, with its extensive park in central Aarhus, includes teaching rooms, offices, libraries, workshops and student accommodation. The university has a distinct homogeneous building style and utilization of the natural contours of the landscape. The campus has emerged around a distinct moraine gorge and the buildings for the departments and faculties are placed on the slopes, from the main buildings alongside the ring road to the center of the city at Nørreport. All throughout the campus, the buildings are variations of the same clear-cut prismatic volume with pitched roofs, oriented orthogonally to form individual architectural clusters sharing the same vocabulary. The way the buildings emerge from the landscape makes them seem to grow from it, rather than being superimposed on the site.
The University has won renown and praise as an integrated complex which unites the best aspects of functionalism with solid Danish traditions in form and materials. C.F. Møller has directed the design of the university buildings from the beginning to the present day.
Team
Architect
C.F. Møller Architects
Landscape
C. Th. Sørensen og C.F. Møller Landscape
Awards
Selected by the Danish Ministry of Culture for the canon of Danish art and culture, a canon comprising indispensable Danish works of art. 2006
1st prize in open competition. 1931
Framework agreement 1996-
Energy and sustainability
| | |
| --- | --- |
| | Daylight |
| | |
| --- | --- |
| | Ventilation |
| | |
| --- | --- |
| | Energy efficient design |
| | |
| --- | --- |
| | Low energy windows |
| | |
| --- | --- |
| | Energy renovation |
| | |
| --- | --- |
| | Flexibility |
| | |
| --- | --- |
| | Healthy building |
| | |
| --- | --- |
| | Noise minimization |
References
2016 mur+betong #3, p.56
2016 Speech magazine #16, p. 40-41
2014 International new Landscape, Interaktive Design 53. p. 94-103
2014 Time Space Existence, made in Europe, p. 60-65
2013 db Deutsche Bauzeitung #12, p.16-17
2013 Masonry Material and Structure, p. 128-139
2013 Aarhus | Arkitektur, Turbine, p. 174-191
2011 En verden i tegl, historien om Pipers Teglværker og kunsten at brænde tegl p. 88
2011 University Planning and Architecture p. 40 - 45
2008 Århus fra oven, p. 116-119
2007 1001 buildings you must see before you die, p. 802
2007 Top 50 - Arkitektur i Århus, p. 58-61
2006 Global Danish Architecture #1, p. 70 - 73
2004 Arkitektur DK #2, p. 144-45
2004 Building Design, April 23: The Møller's tale.
2004 C.F. Møller: Samfund og Menneske
2003 egg magazine, May edition p. 132-137
2001 Lulu Salto Stephensen: Danmarks Havekunst, vol. 2 p. 411-414
1999 Tom Danielsen, Klavs Hyttel og Mads Møller: Fugls Højde, p. 18-21
1998 Velfærdssamfund og boliger for folket (Jubilæumsnummer af Arkitekten, 100 år)
1998 Nils-Ole Lund: Bygmesteren
1995 Tobias Faber m.fl.: Kay Fisker, p. 52-57
1994 Udstilling på Stenomuseet: "Århus Universitets Bygninger"
1993 Mads Møller: Romantik og Snusfornuft, p. 14, 28, 41
1991 Casabella #584: L'università di Aarhus - un progetto di lunga durata
1966 Arkitektur DK #4, p. 142-49
1962 Arkitektur DK #4, p. 42-52
1960 Landskab #6, p. 66-68
1949 Arkitekten p. 185-208
1935 Arkitekten, boliger ved Aarhus Universitet, p.123-26
1934 Arkitekten, p. 1-16
1931 Arkitekten p. 241-44