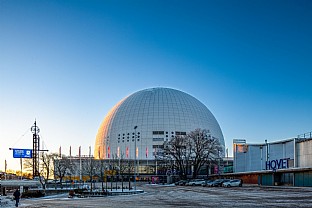 Stockholm Globe Arena (Avicii Arena)
The Stockholm Globe Arena is an indoor multi-arena for up to 16,200 spectators. The arena a listed building and is the world's largest globe-shaped building. The Globe is being modernised to offer better event experiences and business opportunities.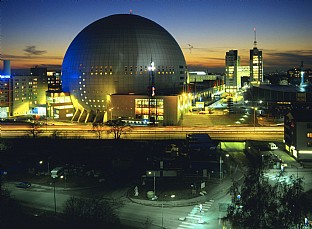 Facts
Construction
HovetByggarna - Siab, ByggPaul och ABV
Engineering
J&W (numera WSP)
Architect
C.F. Møller Architects (formerly Berg Arkitektkontor, since 2007 a part of C.F. Møller Architects)
Landscape
Sture Koinberg Landskapsarkitekter
Collaborators, other
Tunemalm Akustik
Awards
IAKS Award, Bronze. 1993
European Award for Steel Structures. 1989
Nordiskt Plåtpris (the Nordic Metal Prize). 1989
Silverbalken (the Silver Beam). 1989
Swedish Steel Design Award. 1989
Under the proposal, to be presented to the city council for a decision in spring 2022, The Globe's stadium space will be developed to offer a quality experience regardless of the type of event and audience size. The unique spherical feel will remain for events that fit that environment, and for more intimate events the arena space will be able to be scaled down. The grandstand at the top under the roof will be demolished and replaced by modern boxes and event spaces, creating a closer proximity to the arena floor, as well as a better visual experience and proximity to the performance. The redevelopment is due to be completed in spring 2025 and the first major event to be welcomed to the stadium will be the men's ice hockey World Cup.
The concept for the modernisation of the arena space has been developed by HOK, which together with Legends and Schlaich Bergermann Partner has been commissioned by SGAF. In the project, C.F. Møller Architects is assisting with its expertise and knowledge of the unique building as client support to SGAF, and in the design as local architect for HOK.
One of the world's best arenas
The Globe, officially Avicii Arena (formerly Ericsson Globe and Stockholm Globe Arena), was inaugurated in 1989, forms part of a complex which includes a hotel, an office block and a shopping centre. Besides The Globe itself, C.F. Møller Architects (formerly Berg Arkitektkontor, since 2007 a part of C.F. Møller Architects) also played a major role in the design of these surrounding buildings. The architectural work encompassed the idea concept, the establishment of a competition group, the competition proposal, the local plan, and the construction, decor and signage planning. The arena is regarded as one of the best in the world, and has created one of the most famous skyline silhouettes in Stockholm. With a diameter of 110 metres and a roof of 85 metres, the arena is the world's largest globe-shaped building.
In 2009 C.F. Møller designed a new attraction for the Globe: two glass gondolas lifting visitors up along the outside of the building, offering a splendid view of Stockholm and the start of the archipelago.
Gallery