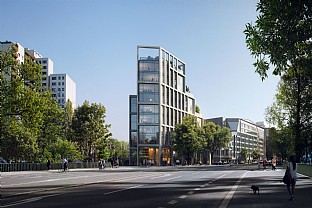 B-One, Corporate Headquarters for Berlin Hyp
The new headquarters for Berlin Hyp is designed to support the banks sustainable vision, while at the same time contributing to the transition and urban development of the surrounding area.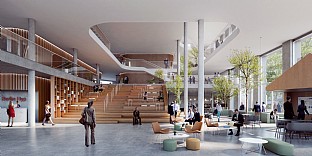 Facts
Competition
1st prize in architectural competition. 2020
Client consultant
BDP Real Estate GmbH
Engineering
Züblin Zentrale Technik (structure, facade, building physics) ZBP Zimmermann und Becker Ingenieurgesellschaft (MEP)
Architect
C.F. Møller Architects
Landscape
SINAI Landschaftsarchitekten and C.F. Møller Architects
Collaborators, other
Transsolar Energietechnik (Energiekonzept) Kardorff Ingenieure (light planning) Kösterke (kitchen planning) Buro Happold (DGNB Consultants) hhp Berlin (fire consultants)
Awards
1st prize in architectural competition. 2020
Placed at the intersection of Landwehrkanal and Corneliusbrücke, the new headquarters for real estate financier Berlin Hyp completes the existing block perimeter in accordance with the specifications of the urban development plan. The 11 story building acts as a reference point on the edge of the western city centre of Berlin. The façade facing Budapester Strasse is staggered from the high point down to a neighbouring historic villa at Budapester Strasse 5, to respectfully mediate between the different scales of the buildings. The building is designed to combine new ways of working and active exchange areas with calm individual workplaces for concentration. A unifying "town hall" area acts as a meeting point and creative workspace, where large gatherings or client receptions can be held.
Focus on sustainability
From the multi-level town hall, a series of smaller double-height spaces follow the steps of the building volume upward and provide various activity-based workspace areas in combination with green outdoor terraces. At the top floor, a roof garden and conference space conclude the sequence of shared spaces with sweeping views over Berlin, and in the courtyard between the new building and the existing structures, a green oasis is created right next to the town hall with the adjoining cafeteria.
Planted terraces are combined with a self-shading façade design which reduces solar loads and appears both calm and understated, while also discreetly integrating photovoltaic panels in the natural stone façade grid. The new headquarters aims for the highest level of DGNB certification, platinum.
Gallery