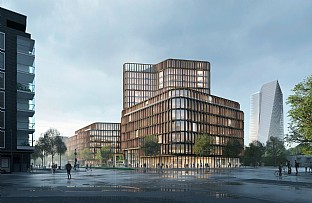 Hafenpark Quartier Office
Hafenpark Quartier Office is an elegant landmark for the new Hafenpark Quartier district in Frankfurt which connects the busy civic areas around the European Central Bank to the neighboring river.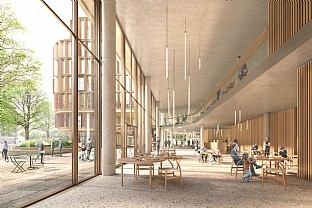 Facts
Address
Frankfurt am Main, Germany
Architect
C.F. Møller Architects
Awards
Honourable mention in architectural competition. 2020
Hafenpark Quartier Office is an inspiring building with a distinct identity that forms the northern gateway to a new urban area of Frankfurt. The building is shaped as a loop with a centrally located tower. This functions as a gathering point, while also creating a clear split from the northern area around the inner garden, and the southern area surrounding the open courtyard. The building is conceptualised as three distinct elements, each with their own unique assets.
Open and accessible to the public
The building is designed as a sustainable and flexible destination with high quality indoor and outdoor areas. A large courtyard connected to the main entrance links the complex with the surrounding area while providing an inviting and friendly outdoor space. The building is designed to cater to the needs of a shifting and diverse user group by providing optimal communication and working conditions. In addition, the building offers a variety of attractive places to stay for both its users and guests. The open and publicly accessible courtyard area strengthens the connectivity to the users, and to the wider neighborhood and city. The rounded forms of the building work to minimise the amount of façade while also optimising views. At street level the curved organic shape makes the building appear friendly and familiar to passersby. Between the main entrance of the building and Honsellstrasse, an urban space is created to encourage pedestrians to take a break. The facade is made of recycled anodised aluminum in several tones of brown and bronze.
Gallery