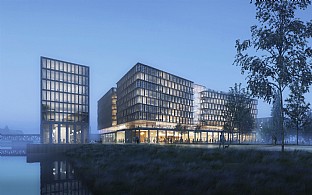 Gruner + Jahr Headquarter
The new headquarters for Gruner + Jahr have been designed as a dynamic modern framework – for workplaces, conferences and customers – and as a flexible 'generator', creating an urban feel in the direct interaction between city and modern office building. The central location along Lohse Park in Hamburg's HafenCity is seeing the creation of a modern hybrid between a rational office building, an urban meeting place and a cultural centre that boosts urban life both indoors and outdoors.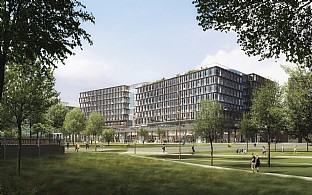 Facts
Client
HIH Projektentwicklung GmbH Gruner+Jahr GmbH & Co KG
Client consultant
Drost Consult
Architect
C.F. Møller Architects
The design comprises an urban base, a strip of office areas, a unifying flowing landscape and several green roof gardens and courtyards. The base accommodates the outward-looking, publicly oriented functions that ensure an active front with respect to the city, whilst drawing urban life into the building in the form of food outlets, cafés, an art gallery, Gruner + Jahr's canteen, a conference centre etc. The office areas above the base are made up of flexible, manageable sections that are visible from both inside and outside; they are further subdivided by 'soft spots' featuring informal meeting places, vertical links between the storeys and great openness towards the city.
The base and the office sections are connected by means of an organically designed flowing landscape that extends from the floor of the base up to the roof terrace, and that with its sculptured staircases, smoothly curved intermediate floors and bridges creates a conscious contrast with the rational office departments. The building's users are encouraged to meet within a new framework, and there are also flexible workplaces along balcony edges, social 'break-out' areas and 'showcase' exhibition areas across departments where you can experience the media company's diverse publications.
Towards Lohse Park outdoor spaces with a close connection to the park are being established on the roof of the base, between the flowing landscape and the office strip green courtyards are being created, and on the roof of the office strip overlooking the park a roof garden is being established with a view of the park and the city of Hamburg.
Gallery