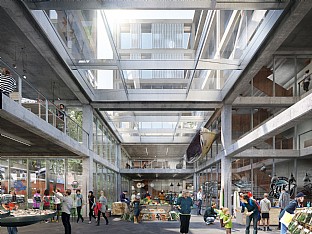 Bremen Überseequartier Schuppen 3
Schuppen 3 in Überseestadt is a versatile reinterpretation of Bremen's historic warehouse architecture that will help make the old industrial harbour areas an attractive destination for residents and tourists.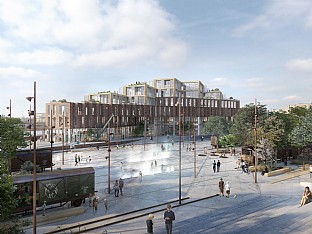 Facts
Client
EuropaQuartier Bremen Grundbesitz GmbH
Year
2019, Competition proposal
Client consultant
Julia Erdmann Socialtecture
Architect
C.F. Møller Architects
Landscape
C.F. Møller Architects
The original Schuppen 3 was a 1950s warehouse, that was worthy of preservation, but had to be demolished due to poor load-bearing capacity. Now that the harbour areas are being reinvented and reused, the city requires a new building that interprets and recreates the warehouse architecture in a new way, with room for outward-looking and flexible functions as well as housing and businesses. Schuppen 3's design reflects and respects the history of the area, and the new building will therefore be reminiscent of its predecessor in its form, typology and footprint.
Open and attractive spaces
The warehouse and the urban space in front of it will serve as a new entry point to the entire Übersee neighbourhood, which will attract residents and tourists from Bremen to this still underdeveloped district. To make the warehouse appear attractive and transparent, an open ground floor with passageways and courtyards is established in close contact with outside spaces, creating an active public space in and around the warehouse with clear references to its industrial past. The ground floor's functions are maritime themed, with everything from gastronomy and shops to culture and a kindergarten. Above the public areas is a faceted building in brick, which recreates the outline and materiality of the warehouse and contains office space for creative professions. At the top, on the roof a pyramid shape with wooden terraced houses, reflects the saddle roof of the former warehouse. The wooden terraced houses offer great views of the harbour.
Gallery