Rue de la Loi 130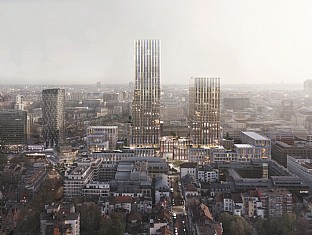 Client
European Commision
Address
Bruxelles, Belgium
Size
190000 m²
Year
2019, competition
The EU Commission's new building is designed as a flagship for the EU and embodies openness, inclusivity and accessibility, with the aim of setting new standards for a sustainable future.
The new premises include offices for more than 5,250 people, 2 childcare centres, a visitor centre that can welcome 345,000 people a year and 3,000 m² of restaurants, shops and public spaces. The whole complex ensures the highest possible level of security.
The new premises are designed with an integrated sustainability and energy profile of BREEAM standard, with a strong focus on reducing the building's CO2 footprint from the choice of materials used.
The complex looks to address both the city context and a human scale, through the combination of a tower and podium landscape. The two towers rise elegantly from two podiums as new visual markers in the city skyline. They are connected by an upper level podium landscape and bridge link, creating one unified floor level, with social spaces, meeting facilities and an auditorium.
The podiums and bridge link are made in a unique wooden construction, a sustainable material that creates a warm, friendly atmosphere and a better indoor climate. The bridge link shelters the main arrival plaza, which is a green and accessible terraced landscape, connecting visitors and residents of Brussels to the Maelbeek metro station. The two podiums are served by independent entrances, shared with day nurseries, retail areas, a food court and visitor centre, creating an attractive and active ground floor public realm.
A mixture of plazas, parks and planted roofs integrate a rich green landscape into the urban surface of the city, along with several rooftop gardens for workers in the building. Decentralised atriums with sculptural staircases are placed in the towers, connecting the office communities and creating transparency to the activities inside the building.
The new EU Commission is designed to perform as a healthy and authentic indoor working environment, which aims to inspire an efficient workflow and cross-communication of knowledge amongst a very diverse group of European co-workers.
Team
Engineering
VK Group, Transsolar
Architect
C.F. Møller Architects in collaboration with B2AI
Landscape
Delva Landscape
Awards
3rd Prize in international competition. 2019
Energy and sustainability
| | |
| --- | --- |
| | Daylight |
| | |
| --- | --- |
| | Photovoltaic cells / solar heating |
| | |
| --- | --- |
| | Ventilation |
| | |
| --- | --- |
| | Energy efficient design |
| | |
| --- | --- |
| | Low energy windows |
| | |
| --- | --- |
| | Green Roof |
| | |
| --- | --- |
| | Sustainable planning |
| | |
| --- | --- |
| | Rainwater harvesting |
| | |
| --- | --- |
| | Prefabricated components |
| | |
| --- | --- |
| | Natural ventilation |
| | |
| --- | --- |
| | Certified building |
| | |
| --- | --- |
| | BREEAM – Excellent |