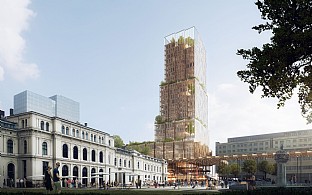 Fjordporten - Nordic Light
By combining tradition and innovation, Fjordporten at Oslo central station merges transport, work, leisure time, culture and business into a forward-oriented and robust hub.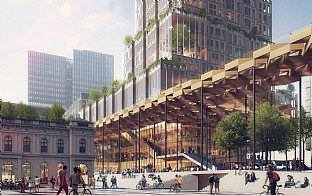 Facts
Competition
1st prize in architectural competition. 2018
Engineering
Bollinger Grohmann Transsolar
Architect
C.F. Møller Architects in collaboration with Reiulf Ramstad Arkitekter
Landscape
C.F. Møller Architects
Awards
S.ARCH 2019 Architecture AWARDs, shortlisted in the Conceptual Design category. 2019
1st prize in architectural competition. 2018
Architizer A+Awards - Unbuilt Commercial, finalist. 2018
The primary aim for Fjordporten is to combine effective traffic logistics with attractive internal and external urban spaces. This is obtained by high architectural quality and streamlined transfers between the various means of transport. A clear architectural identity and a thorough sustainability profile define the project's end result.
Fjordporten comprises a tower with a base. The tower mainly houses offices, while the base contains service functions for transport users. The building volume interacts with the towering "cathedral space" in the existing Østbanehallen and tapers downwards with inspiration from Oslo's landscape and buildings. By combining the use of timber with modern materials such as concrete and high-tech glass, the building's materials are a subtle reference to the time when the city was built from wood.
The tower is bathed in daylight. The workspaces have shared infrastructure, break rooms and informal meeting places to facilitate a flexible, mobile working life. "Green lungs" in the form of vertical connections across multiple levels and terraces with vegetation provide ample contact with the city and its landscape. Since the multi-storey building is to contribute to the city's life, the tower is planned to have public areas, as a spectacular vantage point that is accessible to everyone.
At the base, areas have been created that make it easy to find one's way around. The building structure is clearly evident and facilitates smooth transfers between the various means of transport. A wooden pergola of lightweight mesh structures defines the central railway station's new main entrance, while spacious amphistairs connect the area to Østbanehallen's food market. Outdoor atriums and roof lights ensure optimal daylight conditions in the base.
Gallery