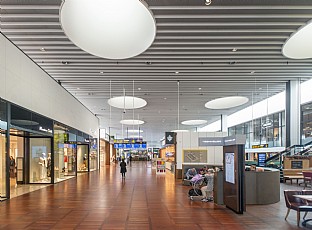 Copenhagen Airport, extension and layout of Terminal 2
The extension of Terminal 2 at Copenhagen Airport looks to increase the commercial space offering and create a larger flow area to accommodate the airport's increased passenger volumes.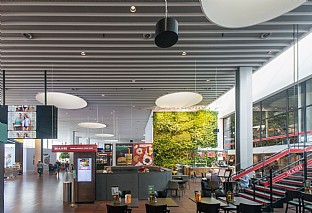 Facts
Client
Københavns Lufthavne
Engineering
ISC Rådgivende Ingeniører
Architect
C.F. Møller Architects
The project forms part of a larger expansion, whereby the airport is looking to increase its annual capacity from 25 million to 40 million passengers. This project will improve the passenger flow in the area at Finger A and Finger B, while also creating space for additional shops. The commercial areas are arranged in clusters, in turn, creating a free area for passenger circulation in-between.
The shops are established as "white boxes", consisting of flexible units that stand as furniture in the double-height terminal space, set back from a continuous ceiling. The shop fronts consist of a framework system that forms the façades of the individual shops. The framework design binds the shop areas together and helps to create "order", where display cabinets are often placed within circulation spaces. The height and extent of the framework system is adapted to different scenarios. The planned flow through the terminal naturally leads passengers past the shops.
Strategically placed shops serve as "lighthouses" to catch passengers' attention, naturally directing them towards the retail areas. On establishing the new shops, the focus has also been on creating transparency, openness and views to the aircraft outside. This means, amongst other things, that the restaurant units in the Food Court area have been moved away from the façade, to enhance the passengers experience of the opportunity to see the aircraft area and to increase daylight levels internally.
Gallery