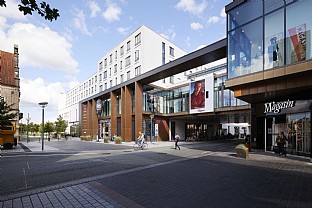 Friis, Aalborg City centre
Friis is a combined shopping centre, car park, hotel, office and business centre. The centre unites a large part of central Aalborg which would otherwise have been separated by the main traffic artery of Nytorv.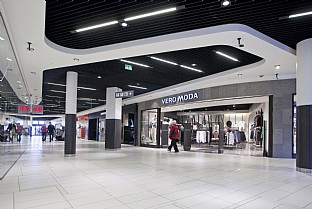 Facts
Client
A. Enggaard A/S, Danica, CABINN
Client consultant
Braaten + Pedersen
Construction
A. Engaard A/S
Architect
C.F. Møller Architects
Landscape
C.F. Møller Architects
Awards
Awarded as "Denmark's most beautiful shopping centre". Awarded by the Danish retail network Detail-forum and the Nordic Council of Shopping Centers (NCSC).. 2011
Aalborg Municipality Architecture Award. 2010
It consists of new property oriented towards the harbour and a renovated version of the former department store Magasin, oriented towards the city's pedestrian street network. Two bridges connect the two buildings across Nytorv, one of which includes room for a shop and a restaurant, which hover above the main street, providing a view of the vibrant city centre.
The aim has been to unite the entire complex in a single, easily readable building volume which binds the various functions together while at the same time emphasising the city's frontage. Sections through the building volume, varied window formats and surface materials reflect the structure of the city – from the large-scale open areas towards the harbour, to the denser, more compact areas around the city's shopping streets.
Gallery