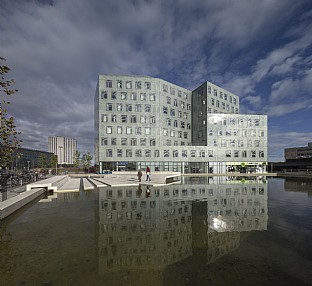 Metropolen
The 'Metropole' is an eight storey office building, situated on the boulevard in Ørestaden which connects the metro station to the university complex. The ground floor houses shops and cafés, and there is a parking garage in the basement.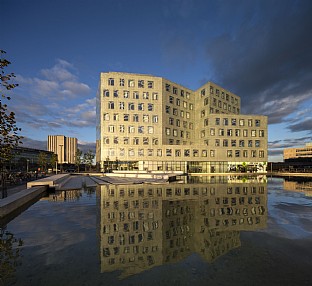 Facts
Client
Pension Danmark Ejendomme A/S
Address
Copenhagen, Denmark
Size
9,670 m² floor space (1440 m² built-over area)
Construction
ArkitektGruppen A/S
Engineering
Orbicon (formerly Leif Hansen Rådgivende Ingeniører A/S)
Architect
C.F. Møller Architects
Landscape
C.F. Møller Architects
The building's volume is modulated and shifting, to give a different aspect from every angle.
The facades are also lively, with an artistically treated, silk-screened glass skin changing in appearance in different light and weather conditions.
An internal atrium connects the floors, and gives easy access to outdoor spaces from all workplaces. The building's layout is a flexible floor plan, which can accommodate up to two different tenants per level. From every floor there are wide views over Copenhagen and the Ørestad.
Gallery