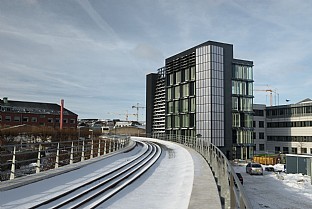 Low-energy office building for the Municipality of Aarhus
The office building, located in a development zone of the Port of Aarhus, is intended to provide a new landmark for the city of Aarhus – a striking image of energy architecture.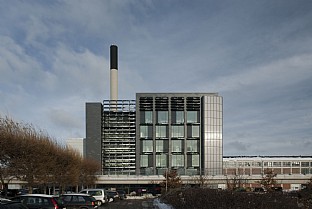 Facts
Client
Aarhus Municipality
Construction
A. Enggaard A/S
Architect
C.F. Møller Architects
Landscape
C.F. Møller Architects
The aim has been to create an example of progressive office building construction, with energy consumption at 'passive house' level and a good indoor climate.
The facade tells the story of a building in which energy design has been used as a holistic approach. A 200 m slatted wall of solar panels and a 170 m2 solar wall provide distinctive, sculptural elements in the facade.
The wall of solar panels, which is slightly tilted in relation to the rest of the facade, produces electricity for the building. The 170 m2 solar wall comprises a vertical element in the building's corner conclusion, extending over all storeys of the building. The solar wall collects energy which it uses to warm up the ventilation air to the offices in winter and to cool the offices in summer.
The office building has a large, south-facing facade and thus receives plenty of sunlight. To provide shade from the sun, the windows are recessed and are equipped with shade panels. These are clad with solar cells, and thus also produce electricity for the offices. Energy-friendly materials and elements with ultra-low thermal conductivity have been used throughout, such as vacuum-insulated windows. The building is twice as airtight in its design as required by the Danish building regulations.
Gallery