Point Hyllie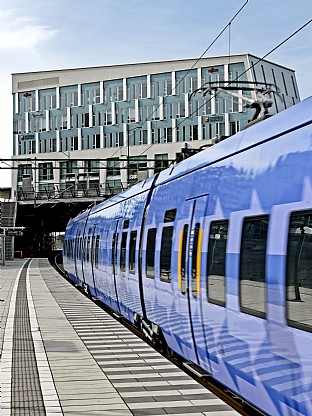 Client
Annehem Fastigheter AB
Address
Malmö, Sweden
Size
45000 m²
Year
Phase 1: 2008-2011, phase 2: 2011-2013
Competition
1st prize in international architectural competition. 2006
Point Hyllie will be an important part of the new urban space around Hyllie station square. The development consists of four tower blocks rising up from a column-supported base.
The tallest building is approximately 95 m high, the next-tallest 49 m, and the final two between 29 and 23 m high. The two tallest buildings, the twin towers, will symbolise a gateway to Sweden, but also a gateway linking the Hyllie residential area with the square.
The buildings have been designed to allow the project to be adapted to human dimensions, and there is a soft, but supple transition between high and low. The project will encompass 300 homes as well as offices and shops, and will form a distinctive landmark in the area.
Team
Construction
PEAB
Architect
C.F. Møller Architects
Awards
1st prize in international architectural competition. 2006
References
2012 Phipips, International Lighting Magazine 2012/9 p. 12 - 13
2012 Surmount (Skysoraper/high-rise), Style + Copy p. 326 - 333
2011 Beyond, 2011, 006 s. 34 - 39
2011 Professional LIGHTING Design #79 , okt. 2011 p. 14 - 19
2009 Space #1, p. 92-93
2008 Byggeri+Arkitektur #22, p. 26-27