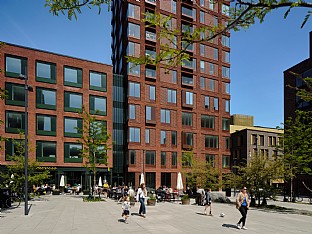 Carlsberg City, Winge Hus and Grønlunds Tower
A classic Copenhagen apartment block with a 50 metre high tower in the new district of Carlsberg City, containing homes and businesses, with excellent communal areas and plenty of daylight.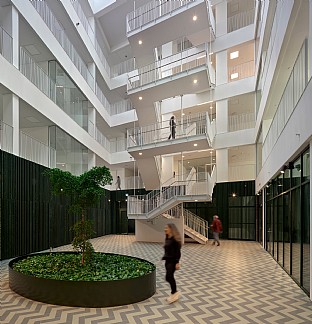 Facts
Client
Carlsberg Byen Ejendomme P/S
Address
Copenhagen, Denmark
Construction
Arpe & Kjeldsholm
Architect
C.F. Møller Architects
Winge Hus and Grønlunds tower are residential and commercial developments located in the attractive Copenhagen district of Carlsberg City. The complex consists of two buildings joined together in the form of a 50 metre tower (Grønlunds tower) and a 5-storey former apartment block (Winge Hus). The top 10 floors of the tower will be apartments, while the lower floors and the apartment block will be office space. The block is built around an atrium, featuring a glass roof enclosing all 5 floors, to provide plenty of daylight. The block is functionally and visually linked by a sculptural staircase. The upper floor is set back and staggered on the north and west side and forms a large communal roof terrace. The materials and colours of the buildings reflect the historic architectural style of the area. It can be seen in the masonry of the block, the reddish-brown tones and darker shading in the tower's grid pattern. The windows stand out visually with brown shades in the tower and dark green in the block. The façade of the block and the tower form a coherent whole in terms of architecture and materials but are separated by two vertical tracks. These mark the entrances to the main functions: the office building and the apartments in the tower. The ground floor is elevated to create more ceiling height for its functions, such as restaurant, shop and cycle parking. The restaurant will feature green painted wooden doors, which can be opened perpendicular to the facade, creating shelter for the outdoor area.
Gallery