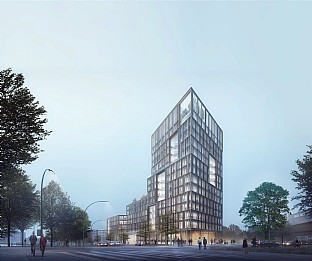 High-rise in Nordhafen
Europacity is a central urban-development area close to the main railway station in Berlin that extends along the Hohenzollern Canal and the former river port of Nordhafen. The remit was to utilise the northernmost plot's excellent visibility and its view of the green riverbanks to create an elegant landmark that clearly marks the entrance to Europacity.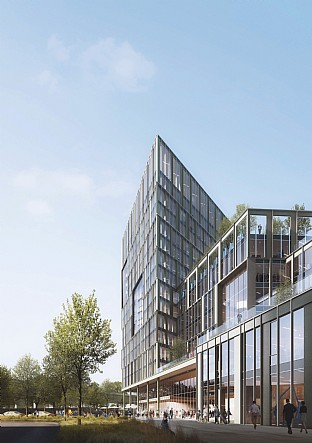 Facts
Client consultant
Drees & Sommer
Architect
C.F. Møller Architects
Landscape
C.F. Møller Architects
The concept consists of four main elements, forming a dynamic modern office building closely integrated with the city's buildings and its urban natural areas: A landscaped surface on the former rail shunting area; a welcoming and outward-looking base on two floors; flexible office environments in a tower vertically connected via open staircase communities; and a range of green and recreational roof landscapes.
The building is designed with a flexible layout so that it can be both occupied by one tenant or a combination of several tenants, signalling unity, identity and modern corporate culture both inside and outside. In addition to the high-rise, the building volume is divided into smaller, contiguous volumes, which together provide good daylight conditions and varied working environments, scaling down to the central boulevard of Europacity, Heidestrasse.
The building volume adapts to the master plan of the area and carries forward the overall lines of the neighboring buildings. It has been designed to create a clear and well-functioning urban space in interaction with the surrounding buildings, in the form of a shared square extending to the northern side of the building and a shared arrival area to the south.
Above the volumes making up the base are several tapering roof gardens, which at city level bring the building down to a human scale and eye level, and at the top of the tower spacious facilities have been set up for shared and public functions, with a roof terrace and a magnificent view of Berlin.
Gallery