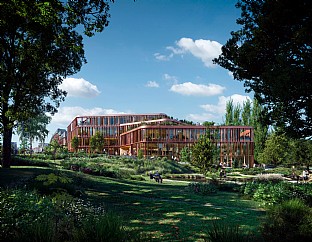 Hypoport Campus Lübeck
Hypoport Group's new headquarters is a campus for encounters and development as well as a public point that unites city and nature.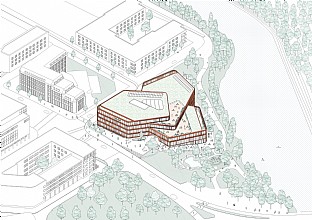 Facts
Engineering
Schlaich Bergermann Partner sbp gmbh (structure), IB Wackermann GbR (fire consultant)
Architect
C.F. Møller Architects
Landscape
C.F. Møller Architects
Awards
2nd prize in international architectural competition. 2022
Hypoport Group is a holding company that brings together providers and consultants within finance, real estate, and insurance. To support this, the main goal of the headquarters is to create an identity-forming building in which the Hypoport Group are unified.
The building consists of three intersecting volumes, which visually and functionally appear as a coherent structure with a variety of spatial situations that invite employees to exchange ideas and linger. The heart of the building, the atrium, also provides an informal setting for interaction. Amphitheatre steps with views to the park and historic old town of Lübeck create a close coherence between inside and outside together with two directly connected roof terraces that makes outdoor spaces easily accessible. Via a sculptural staircase in the atrium, upper offices levels and roof terraces, as well as a food court and daycare center can be accessed.
References to the surroundings
To appear as an urbanistic- and small-scale structure in the surroundings of the adjacent park and old town of Lübeck, the building structure drops in height from street level towards the park becoming a natural part of both the landscape and the urban space, while forming roof terraces overlooking the city.
A copper-coloured facade of recycled aluminium unites the building in a metallic look that, together with the vertical shading elements, makes the building change colour slightly when the sun hits the rotated facade. The warm color scheme is inspired by reddish-brown tiled buildings in Lübeck, while the green roof terraces refer to the green patinated copper roofs of the church towers in the Old Town.
Playgrounds, bike- and walking paths in the park as well as a café on campus create natural meeting places for the public, gently separated from the headquarters by plateaus, terraces, and stairs on different levels around the building.
Gallery