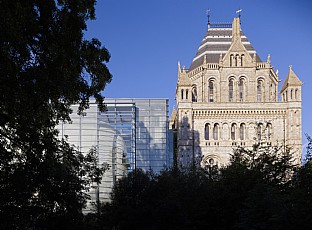 Darwin Centre phase II
The second phase of the Darwin Centre is an extension of the famous Natural History Museum in London, taking the form of a huge eight-storey concrete cocoon, surrounded by a glass atrium.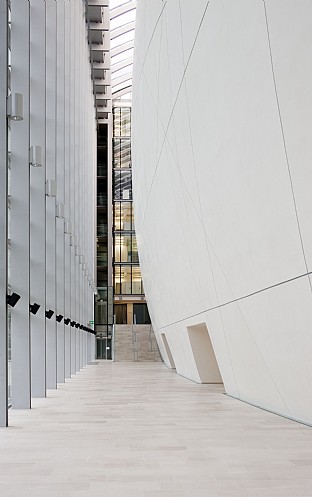 Facts
Client
The Natural History Museum
Competition
1st prize in architectural competition. 2001
Construction
BAM Construct UK (main contractor)
Engineering
Arup (structural engineer) Fulcrum Consulting (services engineer) Buro Happold (fire)
Architect
C.F. Møller Architects
Landscape
C.F. Møller Architects
Collaborators, other
Turner and Townsend (cost consultant)
Awards
Civic Trust Award. 2011
Dedalo Minosse Award, honourable mention. 2011
Shortlisted for RIBA Awards for London. 2011
Shortlisted for the Conde Nast Traveller Innovation & Design Awards, Culture. 2010
Shortlisted for Project of the Year in Building Magazine. 2010
Shortlisted for RIBA Award in the London Region. 2010
Winner of the Association for Consultancy and Engineering Awards in the category Best Service Engineering Project: Large Firm. 2010
Concrete Society Award, Overall Winner. 2009
Nominated for the Mies van der Rohe Award. 2009
Plaisterers' Trophy Awards, Winner of a 'Highly Commended' Award. 2009
Structural Award for Arts or Entertainment Structures. 2009
1st prize in architectural competition. 2001
The Natural History Museum is both one of the UK's top five visitor attractions, and a world-leading science research centre. The architecture of the Darwin Centre reflects this dual role, and reveals to the public for the first time the incredible range and diversity of the Museum's collections and the cutting-edge scientific research they support.
The centrepiece is made to appear like a large silk cocoon, and forms the inner protective element that houses the museum's unique collection of 17 million insects and 3 million plants. The shape and size give the visitor a tangible understanding of the volume of the collections contained within. The regulation of temperature and humidity reduce the risk of pest infestations ensuring that the collections will be protected and preserved for many years to come. The exposed thermal mass of the continuous sprayed reinforced concrete shell maintains a stable internal environment, and minimizes energy loading.
Public access to the scientific core of the second phase of the Darwin Centre takes the form of a visitor route up and through the cocoon, overlooking the science and collection areas. Visitors can experience the Darwin Centre as a compelling and interactive learning space, observing the scientific and research activities without interrupting scientific work in progress.
Gallery