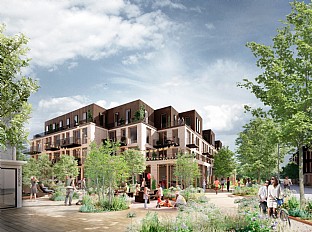 Allerød Kulturtorv
A vibrant city centre with modern homes, community spaces, cosy meeting places, green areas and walking and cycling paths that connect to the city's forests and various sustainability measures.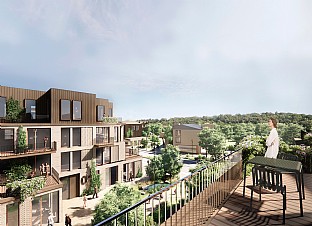 Facts
Architect
C.F. Møller Architects
Collaborators, other
Kuben Management
Allerød Kulturtorv embraces the city's history and focuses on sustainability, well-being, and green oases, where architecture, materials, and environmentally friendly solutions are carefully chosen. The project comprises three properties with approximately 100 apartments, a café, 800 m² of public spaces, and an underground parking facility. To support Allerød as a city for everyone the types and sizes of the residences vary. It provides space for young people looking for a smaller, well-designed apartment, families wanting a townhouse close to the city, and seniors who wish to live near the city culture and public transportation but also nature. Each dwelling is associated with a private outdoor space, such as a balcony, rooftop terrace, or garden. Changes in facade materials, setbacks of the top floors, the use of shed roofs, and gradual reduction adapt the buildings to the surroundings and refer to the city's industrial history. To enhance social life between the buildings, the structures are closely connected to new public spaces.
The city's renowned theatre, Mungo Park, will have a new green forecourt, which also serves as the forecourt for new community spaces covering 800 m², located on the ground floor of one of the new buildings. Additionally, the city's library will have a new forecourt surrounded by the Library Houses, which will also feature a café with outdoor seating.
Focus on sustainability
The new buildings will comply with voluntary CO₂ taxonomy and aim for a low carbon footprint while obtaining the Swan label, a sustainability certification. This will be achieved through the use of durable materials and solutions such as yellow bricks, which are characteristic of the city centre, supplemented with wood. This also refers to the city's historic brick and sawmills and the continued importance of timber processing in the city's activities and history. The project also includes biodiversity beds and rainwater beds to promote biodiversity and manage rainwater for sustainability measures.
Gallery