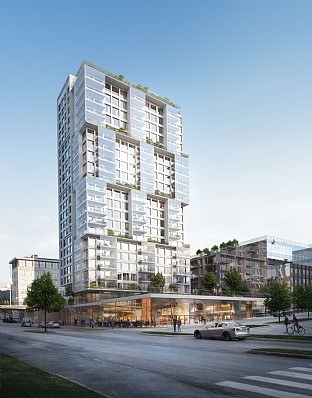 Geysir - Kv Hekla
Geysir is a new and modern residential tower in Kista, north of Stockholm, which, with its central location, simultaneous will serve as the City's new meeting place.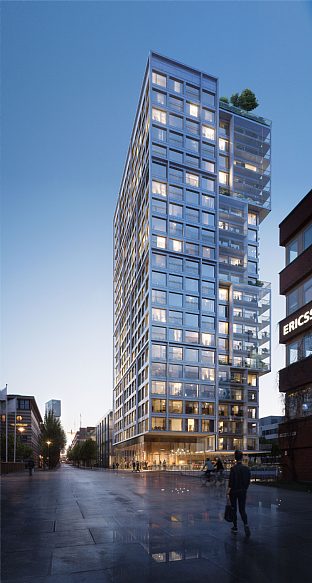 Facts
Client
Aros Bostad Vasakronan
Size
15,000 m² (13.000 housing and 2.000 m² retail)
Competition
1st prize in architectural competition. 2017
Engineering
Sweco Systems AB
Architect
C.F. Møller Architects
Awards
1st prize in architectural competition. 2017
Geysir will, in terms of both expression and content, become a significant building that will unify residents of Kista and the surrounding urban districts.
The two lower floors of Geysir will form a food court, where residents of the area can meet. Both a deli, café and restaurant can be found with possibilities for outside dining in the adjoining green courtyard. The courtyard further gives residents and restaurateurs the possibility to grow their own crops. A low fence divides the courtyard between the public area and the area for the tower residents only. This will provide the residents with a sense of privacy while maintaining the visual contact.
The tower sets the framework for contemporary living, which combines the urban - in the shape of a lively ground floor - with green surroundings and the possibility of cultivating own crops. On the roof of the tower, a green common roof terrace is located, while several of the apartments have their own balcony and panoramic view over Stockholm. There will be residential units of different size and character, to ensure diversity among residents.
The tower is divided into two volumes that differ in relation to each other. It gives the building a recognizable silhouette and ensures shelter on the green roof terrace. The facades simple selection of material in the form of terrazzo and tombac gives the building an elegant character.
Gallery