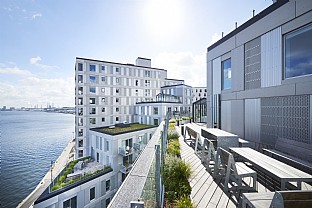 V-Houses
V-Houses are unique twin buildings located on the waterfront in Aalborg containing homes of all sizes. With their unique V-shaped footprint, they ensure that every apartment enjoys lots of light and a phenomenal view.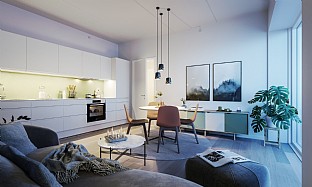 Facts
Architect
C.F. Møller Architects
Landscape
C.F. Møller Architects
The buildings stand on the old east port of Aalborg and are designed to reflect the industrial history of the site with their raw facades and impressive scale. Their V-shaped footprints make the twin buildings unique on the waterfront. The footprint design results in a large open area in the middle, opening up the building towards the fjord.
The apartments range from 28 to 265 square metres, with layouts designed to offer the best views from the living room, with plenty of daylight to all spaces. The varying sizes of the apartments are intended to appeal to young people and families, to help create a diverse resident composition.
The unique design of the building is also reflected through the gradual downward scaling of the floors from the top 14th floor, to the 4th, creating a mix of private and communal roof terraces. The large green roof terraces soften the industrial expression, while adding light and life, strengthening social values and creating a living community.
86 owner-occupied apartments will occupy floors 1 - 14 in each building, with the spacious ground floor designed to be accessible to the public with commercial tenancies and service facilities. Visually, the ground floor differs from the rest of the building with its façade of rugged dark materials. The rest of the building is clad in aluminium, finished in various ways to create a raw and vibrant façade expression. Both the varying façade textures and the height of the buildings are intended to reflect the area's history. The development extends from the new Stjerneplads to the water's edge of the Limfjord.
Gallery