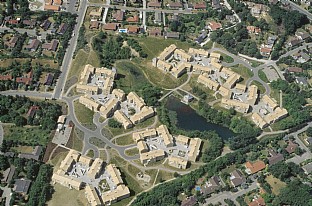 Sandbakken
Sandbakken is a housing complex south of Aarhus, located at the top of the undulating site of a former brickworks, intersected by two deep, distinctive valleys.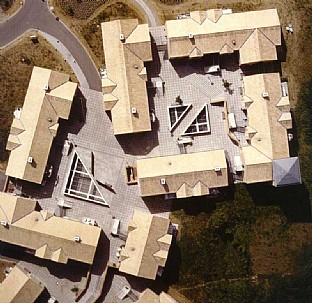 Facts
Client
Pensionskassernes Administration
Collaborators
Engineer: Carl Bro A/S Landscape architect: Paul Le Fevre Jacobsen Artists:Merete Barker, Viera Collaro, Claus Jensen
Awards
Architectural Prize: The Masonry Prize. 1991
Aarhus Municipality Architecture Award. 1989
Prize at the World Biennial in Sofia. 1985
Sandbakken possesses two contrasting outdoor areas: firstly, the dense urban squares of the rectangular courtyards, onto which all the front doors open. Then there are the open green spaces between the three groups of houses, which call to mind the relatively untouched hilly landscape of East Jutland. The simplicity in the details and the unusual construction plan provide the place with an identity all its own.
Gallery