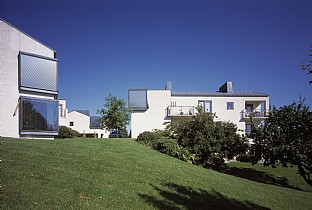 Rungsted Sundpark
Rungsted Sundpark is a housing project on a coastal site north of Copenhagen. The 15 rental units are designed as a combination of low-rise terraced houses and single-family homes.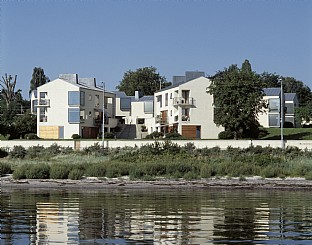 Facts
Client
Rungsted Sundpark A/S Amaliegade 47 1256 København K
Engineering
Birch & Krogboe Francesco Morelli
Architect
C.F. Møller Architects
Awards
Hørsholm Municipality Building Award. 1997
The buildings are laid out in a slightly angular scheme which allows the water to be visible from all parts of the complex. The buildings are arranged around a central square, from which steps lead down to the water. The houses have a simple, timeless architectural design, in which distinctive elements give the buildings character, particularly the large bay windows which form 'eyes' towards the water. The stairways to the first floors and balconies are 'cut out' in the building volumes, resulting in a delicate composition of light and shadow.
Gallery